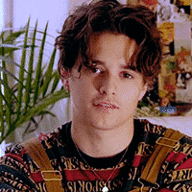 🌼aussie🌼kind🌼sensitive🌼 vibez🌼co-cap🌼6th
Messages

805
OOC First Name

Rowan
Blood Status

Mixed Blood
Relationship Status

Seeing Somebody
Sexual Orientation

In a fake relationship with Kas ) ( Gay
Wand

Curly 10 1/2 Inch Whippy Alder Wand with Fairy Wing Core
Age

6/2038 (16)
After a semester, Connor was finally starting to adjust to his role as a Quidditch captain. It had been nerve-wracking at first, but by now he at least felt like the actual practical part of the role was coming somewhat naturally. The
social
elements were tricky, and Connor didn't think they would ever get any easier. Not while Lucas was angry with him, at least. The best he could do was try and respect Lucas's request for distance, however much he wanted to pick at the wound that had once been their friendship. And as long as he wasn't the only captain, he could leave management of Lucas mostly to Amy. And as for next year.... well, there was no sense thinking about that right now.
What it made far more sense to think about was the cup. Connor still couldn't believe they had made it all the way to the finals, had knocked out
Slytherin
, of all teams, and for the first time in a long time the cup actually felt as though it was within his grasp. He had to stay focused and work hard, and every time his eyes drifted to Lucas during practice all he could do was remind himself that he was here to
win
, not to deal with his personal problems. With the cup at the forefront of his thoughts, Connor cleared his throat to address the gathered team.
"Okay guys, we're gonna get straight into it. Chasers, keep the focus on passing and defensive play, having each other's backs will be critical against Gryffindor. Linden's our only Keeper, so fly a lap between shots to get some practice in travelling. Linden, stay sharp and keep your eyes peeled. Beaters, focus on aim over effort. Your strongest swing is still only as good as your aim. And s-, uh... Seeker, you're... you know what to do."
He hoped nobody had picked up on the wobble in his voice, aiming for the same kind of encouraging tone he had given the rest of the team.
"We beat Slytherin, so let's just... do it again."
He grinned and gave a thumbs up, looking to Amy to see if she had anything to add before he blew his whistle and started the practice.
((No arrivals, let's get straight into practicing! Practice will go until the 20th, when our match with Gryffindor starts.))
Hufflepuff,Practice