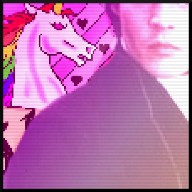 "I am the hero who eats the lesser man..."
Messages

52,972
OOC First Name

Nick
Blood Status

Pure Blood
Relationship Status

Married
Wand

Curly Oak/Wenge 16" Essence of Feng-huang Tail Feather
Age

1/1989
[adminapproval=10763299] Four years was an awfully long time for an engagement but if there was one word to describe his relationship with Ava, Nicolas would confess that it must be 'slow'. From their chance encounter in the halls of Hogwarts (she already married with children), to their plodding courtship, and the bumpy engagement which somehow, miraculously, brought them to this present day. It was most certainly some ancient and arcane magic which allowed this day to finally be upon them, and Nicolas was glad for it beyond all expression.

It was fitting, then, that their wedding should try to embody these traits that were true of the whole of their entanglement with one another: slow, simple, but most of all: magical. In a field near the edge of a cliff overlooking the deep of the ocean far below, wildflowers bloomed into their springtime life and offered a promise of new life for the future, a fitting symbol for the birth of a new way of life for this couple as well. White chairs had been arranged in rows facing toward the ocean and the setting sun, an aisle of purple flower petals led the way toward the front of the gathering and fairies (ever vain) had more than willingly volunteered their light for the evening, dancing through the air in the hopes of gathering some attention and admiration for themselves.

The guests having arrived, Nicolas stood a couple of metres from the cliff's edge beside the ministry official who would preside over the celebration that evening. The crowd of people before him - Hogwarts staff, ministry employees, old friends, some people invited purely out of a sense of obligation - made it even more real to him that this was actually happening. What had once seemed like a far-off impossible dream was happening around him and for the first time he was nervous about it. This was different from anything he'd ever set out to do in his life - this was forever, and he was simultaneously excited and terrified. What would the future hold? His eyes closed for a moment as he tried to calm his restless mind, and he thoughtlessly patted his pocket for the ring. Still there. Still here. Still happening. He opened his eyes and waited for his bride to appear.