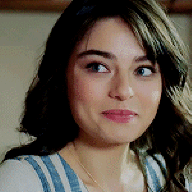 Beater & Captain | Feisty | Beauxbatons 6th Year
Messages

200
OOC First Name

Steven
Blood Status

Half Blood
Relationship Status

Single (Looking)
Sexual Orientation

Homosexual
Wand

Knotted 14 1/2 Inch Sturdy Dogwood Wand with Boomslang venom Core
Age

8/2036 (16)
While it hadn't exactly been a surprise to Mualla that she would be captaining the Quidditch team from now on until she'd graduate herself, Nadine and Orélie had told her so last year, it was still such a surreal thing every time she thought about it. One the one hand, she was kind of excited to get to pretty much build an entirely new team this year. One the other hand, the fact that all of the good players had now graduated and would no longer be a part of the team made her very, very nervous. It would be her duty as the captain to get a team together and work towards their end goal, which was the international championship. But would she be able to get that far with a completely new team? Surely they would be doomed this season?
No.
She could not have such thoughts right now, it would only bring down the mood of today's try-outs and Mualla had been trying to avoid that all day long.
''Listen up, everyone,''
she said loudly to get everyone's attention.
''Welcome to this year's Quidditch try-outs. I'm Mualla and I will be your captain for the next two years,''
the girl added, hoping to Allah that no one could notice how nervous she actually was about this.
''We have got a lot of vacant positions this year so I will be looking for the best of the best today,''
she said, looking around at the new and old faces.
''Show me all you've got and don't hold back, we might have an almost entirely new team but that doesn't mean that we are bad. Let's show the other school's that Beauxbatons is not a school to mess with, yeah?''
Mualla told them encouragingly.
''Alright, for those of you who want to try out, please step forward and tell me your name and what position you wish to try out for.''
She then motioned for those who wanted to try to come forward so that they could officially start the try-outs. Hopefully, all would go well.
| | |
| --- | --- |
| Players | Position |
| Mualla Avar (Captain) | Beater |
| Vacant | Beater |
| Sophia Corelli | Seeker |
| Vacant | Keeper |
| Vacant | Chaser |
| Vacant | Chaser |
| Vacant | Chaser |
| Vacant | Alternate |
| Vacant | Alternate |
| Vacant | Alternate |
Out of Character:

Firstly, returning players are guaranteed their current spots as long as they post attendance in this thread before the try-outs are over. If you were an alternate on last year's team, you must try out again.

Secondly, first years must PM me first if they want to try out for the Quidditch team. No first years will be allowed to try out unless there are not enough older students.