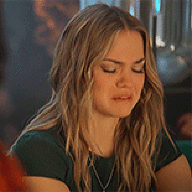 5th year | heta social chair | friendly | clumsy
Messages

1,542
OOC First Name

Maria
Blood Status

Half Blood
Relationship Status

Seeing Somebody
Sexual Orientation

Bi (Ren)
Wand

Fir Wand 14 1/8" Essence Of Sphinx Remains
Age

15 (01/06/2037)
Hi, Okay, so i know i already did this. But since the last time i did this, more people have joined the site and i added another character to my list, so why not? Lol But this time, I'll just be sharing my HNZ students, and not my adults. We can focus on them another time.​
Samantha Jacobs |

Hufflepuff

| 4th Year

Samantha is my baby, my first character since i joined the site. I love her dearly. So throughout her break, she had discovered that she is bisexual. She has recently taken more of an interest in photography as well. Samantha is kind and sweet but she tends to be very clumsy and occasionally break the rules. I feel that she is an ambivert, where she is the middle of both introvert and extrovert. I guess she is also adventurous when she wants to be, likes to discover and learn new things. She recently joined Heta Omega as well, and thought it would be a great opportunity to make friends. Samantha is also up for an adventure, so anything a little mischievous and adventurous - she'd love that. Oh and she loves food, you'd see her carry her own snacks everywhere..





NEEDS: Friends, Drama, Anything!

​

Issac Jacobs |

Gryffindor

| 3rd Year

Issac is Samantha's Younger brother. I haven't really done much which I'm really upset about to be honest. He is a trouble maker and i would like to do more with him. So anything that could break the rules. He is also a huge procrastinator. So you'll barely see him do any work and be lazy with everything. He loves Quidditch, sports and recently has taken a high interest in karate also. He also loves to play games, anything game related for him would be cool. Issac is just an active person, just not as active in his learning as his parents had hoped.





NEEDS: Friends, Drama, Love (flings, crushes) long term hasn't been decided

​

Alexander Rogers |

Ravenclaw

| 2nd Year

Alexander is a shy and smol boy, I love him a lot. I also haven't done much with him, but I would like to do more! He loves adventures and learning new things. Over the time of his break, he had thought that he would like to get to know who his father is, and his background and all. But his mother doesn't like to talk about him, and Alex doesn't know why. Alexander is in his second year of Hogwarts. He is still getting used to the magical life and is an introvert. He's still the cute little stutter he is, but he's getting better. Alexander loves to investigate and learn about new things, through books and much more.Plots with him investigating things and all would be cool! Alexander's still a little shocked that he is a wizard, because his father he hasn't met is a wizard.

NEEDS: Friends, Drama (bullys), unknown family members, Anything!

​

Giselle Miller |

Slytherin

| 1st Year

Giselle is going to be attending Hogwarts this year she is familiar with magic, since herself and her adopted family are magic themselves. But she isn't familiar with the New Zealand magic system and the New Zealand culture just yet. It's hard for Giselle to make friends because she has a really hard time trusting people, due to things in the past (you'll learn later). So when you first meet her, she can be mean and closed off. But once you start interacting with her more than once, she'll slowly open up to you. Since she has moved to New Zealand, I feel like she would be acting out, like doing a lot of mischief and breaking the rules, so we could do something with that. For Giselle, I want her to have a few close friends, but again, it will take a while and will make a slow process. Since the beginning of the year, she has started to learn more about ghosts and anything paranormal, so anything with that would be great!

NEEDS: Friends, Drama, Anything

​

Richard Andrews |

Huffllepuff

| 1st Year

Richard Andrews is also attending Hogwarts, but he is a muggleborn, so he has no idea what the wizarding world is like, so he'd be confused with everything. But he thinks that everything at Hogwarts is cool. He likes to be called Ricky, because he thinks Richard is too formal. Ricky is laid-back, honest but blunt and has a sense of humor. He's the youngest of three and is from Christchurch. He also loves to skateboard, pop rock music and loves to bake! So he'd probably sneak into the kitchens to bake something, who knows! I recently thought of doing a huge end of year prank with him, and a few other people who also like to joke around and prank to get involved as well (any year level). So if you'd be interested in that, let me know!

NEEDS: Friends, Anything

​

Morgan Harvelle |

Hufflepuff

| 1st Year

Okay, so here we have Morgan, i find her quite precious and soft to be honest with you. She's quite shy and bubbly, so when you first meet her the first couple of times, she's a mumbling mess, but once you get to know her more, she's just a cute wild girl. She's a triplet, so she'll be going to Hogwarts with her two other siblings. She loves plants and animals. I feel that she's a goody two shoes and would follow every rule. We'll see how we go though. Morgan also loves to write stories. She is very imaginative, she likes to think about what is out there in the world. Ever since she was young, she has loved ballet. She also has taken her ballet things to Hogwarts, so you'll most likely see her around somewhere. She also loves to paint and draw. It's one of her favourite things to do.

NEEDS: Friends, Anything!

​
If you have any questions, don't hesitate to ask! Feel free to DM me if you want to go more in depth with future rps or anything!
Thanks for reading!

​