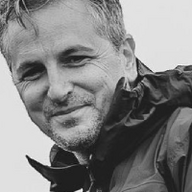 ⚙️ Inventor | Grandfather ⚙️
Messages

9,717
OOC First Name

Claire
Blood Status

Muggleborn
Relationship Status

Single
Sexual Orientation

Asexual
Wand

Straight 9 1/2 Inch Rigid Walnut Wand with Thestral Tail Hair Core
Age

1/1999 (58)
Hellooo there!!

I have more muse than I know what to do with, so I'm looking for some RPs! Here's who I'm most inspired for and some ideas I've had for them:
Monty Pendleton (58)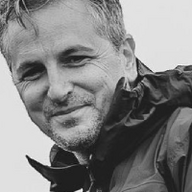 Haha always Monty. His life is feeling a little bit too secure and I'd like to shake it up a bit.
Ideas:
Duelling lessons and/or partner - Monty is always looking to improve his duelling skills. As an ex-almost-auror (dropped out of training) it was his stumbling point, not because he doesn't have mastery over spells, but because he hesitates under pressure. I could see him taking a class or joining some sort of club where he could have a regular duelling partner to practice with.
Romance - always a tricky one hahaha, I'm still not even sure it's possible for him, but I'm always kind of hoping that it'll happen some day. I believe he's bi-romantic, but he gets scared when the other person reciprocates and his feelings vanish. I think it would be easier for him to develop a lasting relationship with someone who's already a good friend. Please feel free to offer anyone though if you want but also please accept my apologies in advance if I turn suggestions down for this because Monty is just really difficult to work with romantically
Tutoring - Monty's a private tutor; he can tutor magical kids in things like English/Maths/Science before they attend Hogwarts, or school-age kids in Charms/Potions over the holidays. So if anyone wants a RP like that I'm always down!
Reconnecting with old professors - heck yeah drinking party, that's all
Doom and disaster? - If you have a criminal who needs a target or something, I'm sure I can think of a reason that Monty would have either a.) annoyed them or b.) just happened to end up in the wrong place at the wrong time. Hehee.
Callum Duffy (41)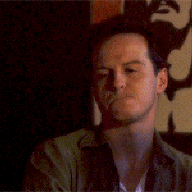 Ahh, my first and only auror!! Callum moved to NZ from Ireland and he's struggling to build relationships. It's his own fault. He's jaded and miserable most of the time, due to his self-perceived failures both as a father and as an auror. But underneath his serious and unfriendly outward demeanour he's got a genuinely good heart; in fact, it is probably because he cares so much that he hurts so much.
Ideas:
Colleague trouble - I don't think it would go unnoticed that Callum is incredibly tired at work a lot of the time. Being an auror gives him a lot of anxiety (probably not the best job for him eh) and it exhausts him, sometimes making him forgetful/negligent. I'd be keen for someone to notice this, or run into trouble because of his negligence, whatever the consequences might be for him.
Romance - maybe he's not in the best place to start a relationship, but I don't think he'd resist his feelings if he started to fall for somebody new. His marriage wasn't very healthy so he has some trust issues, but his desire to love and be love would conquer that. He's only ever had female partners but I imagine him to be bi-curious. I'm down for flings as well as more long-term things if they hit it off!
Friends - oh my goodness give this poor man a friend or two
Van Voclain (5th year)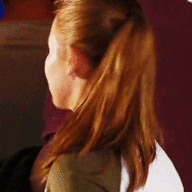 Van tends to get off on the wrong foot with people. She can come across as coarse, blunt, and selfish... and, well, sometimes she is. She grew up in a bad area with a mother that never bothered to shield her from the ugly truths in life, and who sabotages and disparages her efforts to be a better person.
Ideas:
Fights - it doesn't take a lot to set Van off, and I imagine it would be quite entertaining (to a certain type of person) to antagonise her. Maybe someone could continually try to goad her into reacting. Eventually she would probably just snap and start a physical fight. I really want to do something like this!!
Professor chat - Van's grades are slipping and I'd love it if a professor would talk to her about this. She tried very, very hard up until the start of her 5th year and then decided it wasn't really worth it any more because even her best efforts don't make a difference. She needs to be reminded that it does matter and does make a difference.
Friends - Van doesn't have a close friend I feel like she'd be better off befriending younger students as she struggles to get on with people her own age. Someone who feels like they don't belong, because she'll relate. But anyone who could see past her abrasiveness would find a good friend in her. Just be warned, she's not very loyal and she doesn't forgive easily.
Romance - Van has spent her teen years pining after boys who don't like her back, and now she feels as though nobody will ever love her. I'm down for either more plots where her feelings are unreciprocated, or a plot where someone does like her and she responds defensively because she doesn't really believe it. Or anything in between. Just expect a lot of drama because she's a pain in the butt also she is heterosexual but misunderstandings could be fun too!
Seraphiel Fletcher (1st year)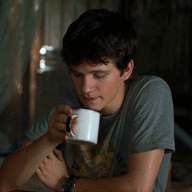 My boy Sera! This is the son of Gabriel Fletcher and Lexy Martinez. Gabriel was pretty thoroughly despised at Hogwarts for being a self-absorbed, smarmy, rude jerk to pretty much everyone he met. He died several years ago in a work-related accident, and Sera is still guilt-ridden for having mixed feelings about it. Things have been
better
since his dad died. Is he a horrible, terrible person for feeling this way? Very probably, according to the devil on his shoulder. He hasn't figured out that people are a mix of good and evil and is secretly convinced that he's a fully bad person deep down.
Ideas:
A terrible misunderstanding
- because I am mean to my characters, I'd like to reinforce Sera's fears that he's a bad person. Maybe he could accidentally do or say something horrible that greatly upsets somebody. Heck, maybe he does it intentionally, just not thinking about how the other person will feel. A badly thought-out prank? It would work best if your character is someone who would get visibly upset or annoyed about it, so Sera knows he did bad

Dungeons and Dragons
- Sera wants to host a D&D campaign. I don't really want to write a whole campaign so it would have to fall apart quickly due to clashes with the players. I'd love for him to get a group of people together, only to find out that half of them don't like each other and are just trying to sabotage the game, or something. It would probably all occur over a single RP. Please drop a reply or a PM/discord message if you'd be keen to join so that I can get a group PM together or something

---
OK that's it I think but with that said please feel free to suggest ideas that I haven't written down, or hit me up for RPs with my other characters!! I am bursting with muse and up for anything really


Thanks so much

Last edited: