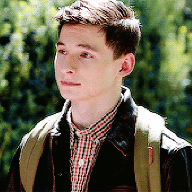 "star"; horror fan; hm reporter; film fanatic 🎬
Wendall was not looking forward to delivering to the first person on his list. He'd been looking forward to rose delivering but perhaps he'd gotten too excited. The first person was the best friend of Wendall's cousin Leda, but that didn't mean Wendall liked him. To the Hufflepuff, Mervyn was the boy who'd knocked him over and barely seemed to care. He was boisterous and loud and would rather be funny than caring.
" @Mervyn Strangewayes I have something for you,"
he said after approaching the boy from behind.