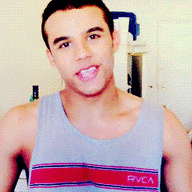 Way Too Tall | Trying to Stand Out
Messages

1,018
OOC First Name

Kris
Blood Status

Muggleborn
Relationship Status

Seeing Somebody
Sexual Orientation

Gwen) (Bi
Age

09/41 (19)
Rene straightened the captains badge on his robes one more time for good measure, admiring how it caught in the sun filtering in on the pitch as he waited for team and new potential players to finish gathering on the pitch. He was pretty sure he hadn't forgotten anything, glancing over to check he'd not somehow left the quaffle in the locker room or something before taking a deep breath. If he had it was a bit late now, seeing as people were already starting to look at him, anticipating his address before they got try-outs under way. His first official try-outs as Hufflepuff captain. It was daunting and thrilling the same time. Sully had never made captain, and Rene had been on the team since his first year; he knew how this was supposed to go. He didn't need to be worried, he assured himself, giving his robes one last tug to set them straight before addressing the gathered players.
"
Uh, hey guys. I'm Rene, I'm your new captain
," He said, giving the team his best winning smile. "
We're mostly looking for a new beater but go ahead and list any position you're interesting in playing along with your name, we can always use new talent on the team
," he said, relieved to find he had in fact not forgotten the quaffle as he turned to check over the balls. "
Returning players, go ahead and warm up and get into your positions so we can see how the new players fit and stuff
," Rene added, content everything was there and releasing the bludgers and snitch with a quick kick to the ball chest before mounting his own broom. "
Got a few spare beaters bats and brooms too if you need one, if not, let's go
," he said, kicking into the air and only just avoiding a little celebratory fist pump due to having the quaffle in his off hand. He had this captain thing in the bad, surely.
Out of Character:


Welcome to Hufflepuff tryouts!


Returning team members must post an attendance post to retain their spots.
New members or returning alternates please have your char state their name and desired position before posting your tryout RP
First years interested in trying out require captain's permission to post so please PM me for more information
Any other questions, please feel free to PM me!

Good luck!