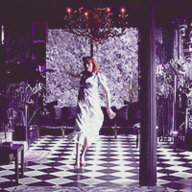 🌼head in the clouds🌼6'3"🌼 🌼ollivanders asst🌼
The sun was finally beginning to show through in force, and Ainsley had no intention of wasting a beautiful day indoors. Gathering up her sewing supplies, she trotted out of the castle and made her way into the beaming sunlight, ready to make the most of the sunshine now that it was here. Ainsley meandered along, a bundle of fabric in her arms, until she spied a peaceful spot on the banks of the lake, perfect to dip her toes in the cool water and enjoy the sunshine on her shoulders.

Settling down, Ainsley picked up a skirt she hadn't worn in a while, shorter than her standard ankle-length fare and more suited for the intense heat of summer. Ainsley spent a lot of time adapting her own clothing, and with summer coming up this one definitely needed a few more pockets. Since last year she had slowly begun the process of sewing long, thin wand pockets onto all her skirts and dresses, for convenience's sakes. The darn thing just didn't go nicely in a standard pocket. Selecting a brightly patterned floral scrap of fabric, Ainsley hummed and gently splashed her bare toes in the water as she began to sew, thinking as she did about how things had changed so much over the last year.