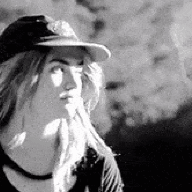 we are born not once, but again and again
Messages

1,339
OOC First Name

Ana
Blood Status

Muggleborn
Relationship Status

Single
Wand

Straight 12.5'' Flexible Larch Wand with Dragon Heartstring Core
Age

17
Harper was pretty sure she'd spent the last few months cycling through the five stages of grief. That felt a little ridiculous to think — she certainly didn't have anything worth grieving over — but it was honest. And these days, Harper was trying to be more honest with herself. There had been the denial as her brain refused to accept the fact that her animagus training was over. Then there was the anger — at her past self for botching a transformation, at Professor Abberline for cancelling her lessons, at her current self for being so afraid. That had quickly given way to bargaining as Harper begged her subconscious and body to listen to her, making absurd promises to never want anything again if only the universe could give her her old confidence back. For a few days, she had wondered if this was all a futile endeavor, if she had changed so irreparably that she was no longer capable of becoming an animagus.

The only stage Harper had missed was acceptance. She still refused to accept that this was the end of her animagus training. Maybe that meant she'd cycled back to denial; maybe it meant she'd skipped forward into a new, undefined stage that felt a lot like determination. Either way, Harper had spent much of the past few months methodically dissecting not just her fears, but herself, and after lots of meditation, canary cremes, transfiguration spells, and self-reflection, she finally felt ready to ask for another animagus lesson.

It was unfortunate that this moment had come during the last week of classes, just before Professor Abberline was about to leave, but there wasn't a lot Harper could do about that. As she waited for the rest of her classmates to leave the room, Harper studied the cage of hummingbirds and honeysuckle on her desk, trying to remind herself that she was good at this. She was good at Transfiguration, and she was worthy of animagus lessons. After the last person had left, she approached the professor's desk. "Professor Abberline? Do you have a few minutes? I wanted to talk about my training." Her gaze skipped back to the cages littered across the room. "I can help vanish those if you want," she offered.