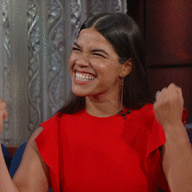 Gryffindor HoH | Mother of 3
Messages

34,029
OOC First Name

Cyndi
Blood Status

Mixed Blood
Wand

Knotted 15 Inch Flexible Oak Wand with Meteorite Dust Core
Age

4/2005
The Kingsleys had some of the best security charms in place, so even before she heard the knock on the door, Cyndi Kingsley had received notice that someone was approaching. Although inside, it was certainly very homey, the place was a fortress. The Kingsleys had made no concessions where their family was concerned. But today was about letting people in. Cyndi Kingsley had the idea to organize a dinner for all of the candidates, an opportunity before they well and truly got into campaigning to get to know each other and speak to campaign. She'd seen the posters and knew that campaigning had already begun, but from her memory, it hadn't been until after the debate that the candidates had been at each other's throats. At least she hoped she'd remembered correctly.
Food prepared and family ready and with light music playing throughout the house, Cyndi Kingsley took one last look around, glad that everything seemed to be in its place. The Kingsleys still had obligations, Cameron to his office and the family as a whole to present themselves in a good light and she would be damned if that changed tonight. Heating movement from upstairs, Cyndi gave a quick glare, silently daring one of her children to make a mess of the rooms she'd magically cleaned earlier that week. In seconds, she was back to smiling as she pulled open the door and greeted the first guest.
"Welcome!"
Out of Character:

Candidates, their immediate families, and their Aurors are welcome. If you don't fall into that but think you should be present, PM me!