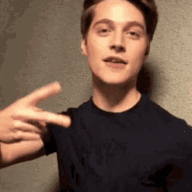 Cheerful| Talkative| Funny| Helpful
Messages

287
OOC First Name

Ruben
Relationship Status

Too Young to Care
Sexual Orientation

Heterosexual
Wand

Straight 12 1/2 Inch Flexible Holly Wand with Veela Hair Core
Hunter couldn't believe he had actually graduated from Hogwarts, he had decided to live and work in the muggle world like his mothers. He was currently studying at a muggle university. doing a major in wildlife biology before applying to vet school. His major was actually best of both worlds, he learned everything from mammals to fishes combined with forest ecology, animal-plant interaction and management of ecosystems. On the side he volunteered at an animal shelter in the wizarding world, as he struggled to fully eliminate magical creatures from his life, and worked a few shifts at the coffee shop on campus for some extra money. He was doing okay mostly, Asteria even seemed to like him now so his life was good.
He was currently parking outside a house in Helensville that Harper had texted him the adress of, this was the first time they would meet since they had left Hogwarts, a lot of things had happened since then. He took advantage of the holiday break and decided to drive to Harper's... he just forgot to see that it was an eight hour drive until he was already on his way. Well, it was okay, he had left early anyway. The boy had no idea what to expect, it's not like Harper would be unrecognisable by now, he just didn't knew what she was up to and if their differences and their lives would make them grow apart from now on, since they weren't bound to run into each other in the corridors anymore and apparently lived eight hours apart. He also questioned if her family was home, or maybe her brother that she talked about so much. He cursed himself for forgetting to bring a gift, but again, he wasn't sure if her parents were even gonna see them, they could even go for a walk outside the house... things with Harper had always seemed easy, why weren't they this time?
He got out of his car and walked towards the door in front of the house wondering if anyone inside had already noticed his presence, if they had they didn't bother to opened the door, so he knocked as soon as he finished sending a text to Harper saying "Here". Then he did what he knew best, he plastered his best boy next door smile, with his hands on the pockets his yellow varsity jacket, one that his moms gifted him when they knew he had gotten the spot as chaser in the Hufflepuff quidditch team, and waited until someone opened the door.
@Harper Alston