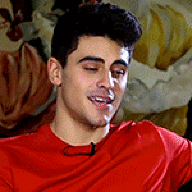 captain • bold • ball of energy
Messages

810
OOC First Name

Marijke
Blood Status

Half Blood
Relationship Status

Seeing Somebody
Sexual Orientation

El
Wand

Curly 14 1/2 Inch Flexible Blackthorn Wand with Hippogriff Feather Core
Age

11/2040 (17)
Isaiah had good hopes for quidditch this year. He felt like he had really gotten the hang of being captain last year and he was confident that this would finally be Gryffindor's year. Surely it would be. It was also hard not to notice how popular the Gryffindor team always seemed to be. Even if they hadn't won the cup in years. But perhaps that was just that Gryffindor enthusiasm. This year had been no different. Try-outs had been busy and it had caused him to make some difficult decisions. Ones he had made with the best interest of the team in mind and definitely ones he stood by, but difficult ones nonetheless. Such was the fate of a captain.
Shrugging off a bit of the seriousness Zay looked around, making sure everything was ready for their first practice of the year as he waited for the team to arrive. When they had all joined him on the pitch he shot them a wide grin. "
Hey guys, welcome back to another year of quidditch!
" He greeted them. "
And a special welcome to our newest members, Rāwhiti and Timothy.
" He added, motioning towards the two new alternates. "
We've got plenty to do and I trust you all know what to do so I won't waste any time by giving a speech of some sorts. Chasers, I know you're keen to steal and that's good practice but I also want to see you working together.
" Zay nodded towards the chasers. He knew they were all capable, knew they were solid players. They were just missing some teamwork and he needed them to show that. "
With that said, let's get going. This is going to be our year gang!
"
Out of Character:

No arrivals necessary, let's dive right in!
Gryffindor,Practice