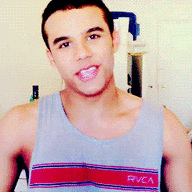 Puff Captain | Way Too Tall | Trying to Stand Out
Messages

1,011
OOC First Name

Kris
Blood Status

Muggleborn
Relationship Status

Seeing Somebody
Sexual Orientation

Gwen) (Bi
Age

09/41 (18)
Rene knew he had nothing to be nervous about; everything was going well for him. They'd won their first game and were into the finals, things were looking promising with Gwen, really everything was looking up. And while he was definitely feeling a confident spring to his step as he set out the game chest and checked over his broom for practice, Rene could feel a creeping doubt that everything was about to go downhill any second now.
"
Hey guys, let's get right into things today, yeah?
" He said, clearing his throat and pushing the feeling back forcibly as he smiled at the gathered team on the pitch. "
I think we've got a serious chance here to beat Gryffindor, but we can't forget Slytherin's also still breathing down our necks trying to take second as well. So chasers, you guys are a great unit but let's really work on communication and passing, I'd love to hear you guys talking to each other up there
," he said, surveying the team. "
Same for you, keepers, talk to your chasers. And Chase and Felix, we should be talking as well, maybe work out some hand signals so we can coordinate defense, aye?
" Rene offered, keen to see the team really working as unit as he moved over to release the balls into play.
"Otherwise, let's just work hard so we can really show the school we're not the underdogs here
," he finished, mounting up on his broom and kicking off to throw the quaffle into play.
Out of Character:

Practice will run until our game starts, so no arrivals let's get right into it!