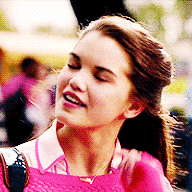 🎉 Beaux 7th Year | Chaser + Co-capt | Bonsquad 🎉
Beauxbatons,Practice
Nadine couldn't help feeling a bit emotional about this practice, as it was likely the final one she would host together with Orélie, and the iinal one she would experience on the Beauxbatons team. Their match against Hogwarts was coming up, and Nadine knew they had to be as prepared as they could be for it. She waited for everyone to arrive, then glanced over at Orélie. They had decided Nadine would kick off practice today, but she still wanted to make sure Orélie had a chance to speak as well if she wanted to. Once everyone had assembled, Nadine took a deep breath
. "Alright everyone, I want you all on your best game today. Show us how you'll be when we face off against Hogwarts in the upcoming match."
She told them firmly.
"Last year, the Hogwarts beaters were aggressive. I want the beaters now to focus on defense, but also on their aim. We might have to play their game and take out some players if we want to win."
She told them.
"Bijoux will guard the north hoops. Us chasers will try to score there, but also try to pass to each other in between attempts."
She herself had been guilty of hogging the quaffle on more than one occasion, and it was a habit she wanted to break.
"Seekers.... you know what to do."
She gave her cousin a small smile.
"But before we kick off, we have a small announcement."
Nadine said, glancing over at Mualla with a smile.
"As it is our final year, we have decided to ask Mualla to step up and be your captain starting next year. We are sure she's going to do great."
Nadine said with a grin.
"And with that, let's go!"
Out of Character:

No arrivals! Just get right into things. Practice will be open until the game.