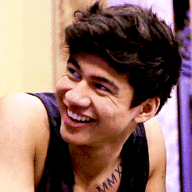 positive 💛 helpful 💛 sunny 💛kids entertainer💛
There weren't a lot of things that made Kauri nervous, even in a place like Hogwarts. Professor Styx definitely, the forest, the thought of how close graduation seemed to be creeping, and really long essays. Those were about the only things he could think of. However now, Kauri definitely had to add nighttime patrol to his list. He had never been very good at staying up past the bedtime his parents set for him, even when it was required for late night Astronomy classes, and even if he somehow managed to get through the entire patrol awake, what would happen if they actually caught anyone? What if someone attacked them, or they had to chase someone? As scary as the class was, for once Kauri was actually relieved not to have dropped Defense Against the Dark Arts.

Wanting to get some late studying done, Kauri had agreed to meet Corrine outside the Prefect common room before their patrol began, so they could get ready, and he could ask the older girl any last minute questions he had. He was especially grateful to have been paired with someone older, the reassurance of being able to ask Corrine's help soothing some of his nerves. As Kauri hovered outside the room a little early waiting for his partner to arrive he found himself suppressing yawns, wondering if the pressure of knowing he needed to stay up late was somehow making him even more tired than usual. He shifted from foot to foot nervously, trying not to let himself go so far as pacing. He would need that energy to stay up as late as they needed to tonight.