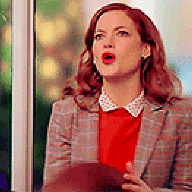 hates secrets 👑 writer & guardian; soul searching
OWLs, Quidditch, Hogwarts Monthly. Dervish and Bange's. How was someone like Leda meant to balance everything like that? She had the attention span of a three year old and couldn't keep still long enough to save her life. Now she was expected her do all of this and keep up her social life? The Slytherin had barely had a chance to talk to Mervyn for over a year, and she hadn't seen many people from her common room in what felt like forever. She had at least taken to her prefect duties better than she could have hoped for. She hadn't wanted the position, she didn't need the attention. Luckily she'd managed to get away with standing out too much, her badge often hiding underneath her robes and only participating in the occasional patrol duty. It had been weeks too since she'd heard from Olive, even though her sister apparently was keen to bridge the gap that had divided the two siblings.
​
Taking to the skies in order to practise her techniques in time for the next match, she hoped it would give her a chance to feel better. It wasn't that she disliked being busy, it was fun to have what she did and deep down she knew she was very lucky, but that didn't mean the fifth year had an easy job of knowing how to balance it all. What happened if she ended up disliking the career she was working towards? With no one else in the school to turn to she only had herself to trust, and the additional responsibilities was making her more agitated than usual.
​
Last edited: