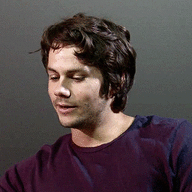 Impulsive | Macaws Beater
Messages

2,200
OOC First Name

Steven
Blood Status

Half Blood
Relationship Status

Seeing Somebody
Sexual Orientation

Freya
Wand

Curved 14 Inch Rigid Cypress Wand with Acromantula Web Core
Age

10/2028 (25)
Continued from
here
They appeared again in the living room of his shared apartment, the noise of them apparating enough to make the owl in the corner of the room hoot excitedly. Although Asaiah had disapparated and apparated a thousand times by now, it still made him feel a little uneasy every time he did it, though nowhere as uneasy as travelling by portkey. While the owl was a pretty good indication that he had brought them to the right place, he still turned to look around once he opened his eyes, smiling when they indeed standing in the apartment.
''Freya? I'm home, and I brought a friend with me!''
He called out when he didn't see his girlfriend in the living room. The lights were still on so she was probably in one of the other rooms.
''Alright, make yourself comfortable. Do you wanna beer or juice or anything?''
Asaiah asked Marisol whilst walking up to his owl to get it to be quiet again by dropping a treat into the cage.
Last edited: