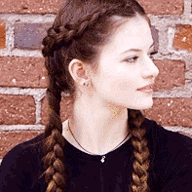 🌟 Space girl | SCIENCE! | question everything 🌟
Stella Marie Wright

The Basics
What's in a name? That which we call a rose by any other name would smell as sweet.
​
Character's Name:
Stella Marie Wright
Stella:
'Star' in Latin.
Marie:
French form of Maria, originally a Hebrew name of unknown meaning. Stella likes to think that she was named this after Marie Curie, but it is actually a family name.
Wright:
From Old English meaning 'maker'.
That is my home of love: if I have ranged,
Like him that travels I return again
​
Character's Birthdate:
14 September 2033
Hometown:
Dunedin, New Zealand
We are such stuff
As dreams are made on, and our little life
Is rounded with a sleep.
​
Blood Status:
Halfblood
Wand:
Straight 12 Inch Unyielding Beech Wand with Meteorite Dust Core
Length:
A fairly average length for a wand, not at all uncommon or very special.
Flexibility:
A wand which takes a special skill and determination to master; but once mastered its spells leave an unforgettable impression.
Wood:
Beech wands work well for those wise and full of understanding: the simple and narrow-minded may covet such a wand but often find its power to be lacking outside of its proper match.
Core:
This wand core works well for people who adapt easily to their surroundings while still maintaining their own personalities. Meteorite dust seems to produce wands that are useful in Divination work.
Hogwarts House:
Ravenclaw
Appearance
Look like the innocent flower,
But be the serpent under it.
​
Hair:
Straight and brown, worn long and usually loose
Eyes:
Green
Height:
Around average for her age, a little on the short side
Build:
Slender
Style:
Usually trending towards bright colours and simple patterns, though if Stella can find anything with a galaxy print she will definitely wear it. She likes skirts and dresses
A Little Deeper
I say there is no darkness but ignorance.
​
Personality:
Stella is a quiet yet enthusiastic girl. She is endlessly curious, driven to investigate things and find out how they work. She is a dreamer at heart, idealistic and optimistic about the way the world works. As such, she is generally friendly to everyone, although she can seem distant when she's thinking about something unrelated to what she's currently doing. Stella is very interested in everything, which means that she's easily distracted by possibilities at a tangent to what she's supposed to be doing. This means that despite her obvious intelligence, she's somewhat scatterbrained about getting her assignments in on time.
Interests:
Stella is passionate about science, particularly astronomy. She loves poetry, and often writes her own, though she is usually dissatisfied with it. Stella's favourite writer is Shakespeare, and she habitually reads his work with a dictionary on hand to look up what his more obscure words mean. She occassionally has to ask one of her parents to clarify things, but she hates simplified versions of any piece of classic literature.
What is past is prologue.
​
History:
Stella inherited her love of science from her mother Isabelle, a Muggle chemist who works at Otago University. Her father, Alec, is a wizard, so Stella grew up with one foot in both worlds. She had a happy childhood, always feeling supported by both her parents in whatever she tried to do. Stella's little sister Nell was born when she was two years old. The girls grew up very close, although Nell does not share Stella's obsession with astronomy. Stella went to a Muggle primary school, where she had a small group of close friends.

Her parents argued about whether to send her to Hogwarts to learn to control her magic, or to Muggle intermediate and high school to further her interest in science. Part of this debate was naturally that Stella had never been so far from home before and sending her to a boarding school was a daunting prospect. When Stella was nine, she caused an accident when visiting her mum's lab, wherein she inadvertently caused several beakers to explode by magic. No one was seriously injured, but the arguments stopped after that. Stella eventually declared that regardless of the incident, she wanted to go to Hogwarts. Despite Alec's assurances to the contrary, she was quietly confident that Hogwarts New Zealand must teach Muggle subjects like science, English, and maths alongside the magical ones. It made no sense to only teach magic. After all, he had been to Hogwarts Scotland, and some time ago. Things must have changed since then.
Love sought is good, but given unsought, is better.
​
Family:
Name:
Dr Isabelle Leclair
Relationship:
Mother
Occupation:
Chemist
Blood status:
Muggle
History:
Isabelle grew up in Auckland. She went to Britain for her PhD, and lived there for a time after finishing. There she met Alec, and they eventually moved back to New Zealand together, settling in Dunedin.
Name:
Alec Wright
Relationship:
Father
Occupation:
Architect
Blood status:
Mixed blood
History:
Alec was born in England, and went to Hogwarts Scotland, where he was a Gryffindor. He trained and works as an architect, specialising in fantastical magical dwellings.
Name:
Nell Wright
Relationship:
Sister
Occupation:
Hogwarts New Zealand Student
Age:
12 (born 2035)
Blood status:
Half blood
Last edited: