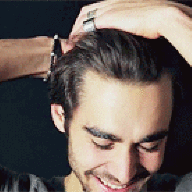 📷 protective; acrophobe; photographer; extrovert
Elio was glad to have found a friend in the Ravenclaw. It was a bittersweet given that she would soon be graduating, but Elio was still glad they'd met and shared their love for music before it was too late. Hoping that he knew where he'd be able to find the older girl, he was searching the usual places including the Conglomerated Arts room.

"Kramer?"

he poked his head into the room. Isla was in here more than he ever was, but his sister had spoken to Alexis in here before too so many she was taking a break from the rest of the school down here.
​