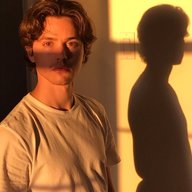 Beater & Gryffindor Captain
Dressed in jeans and a t-shirt, Jacob couldn't have looked more out of place at the ball. But he didn't plan on staying so he didn't care. All he cared about was getting some steaming cocoa and some cookies and then he'd be back to his regularly scheduled comic book reading in his bed. It felt like the perfect night which was a huge change from the teen who'd previously attended every social event he could to talk loud, eat tons, and dance the night away. Not this year. The teen tapped his sneakered foot, hoping the girl ahead of him would stop talking about whether she wanted a Christmas tree cookie or an ornament shaped one. "Maybe both?" he offered and then groaned when she looked aghast at his reply. He was so close but so very, very far.

Ten long minutes later, the girl had decided on a candy cane cookie and he'd just gone for as many as could fit on his plate. With his mouth full of cookie, Jacob began his walk to the doors, a mug of cocoa in one hand and a warm plate of cookies in the other. He was steps away from what was going to be a perfect night.