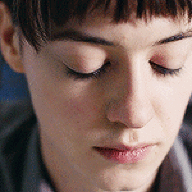 Messages

14
OOC First Name

Jess S
Blood Status

Mixed Blood
Relationship Status

Single (Not Looking)
Sexual Orientation

Pansexual
Age

23
Evan had been genuinely surprised when Charlie the hit wizard had come back. And not just once, but he had been coming back repeatedly. She had thought that after he'd saved her and escorted her home, he would have forgotten her. Since he was coming over rather frequently now, Evan had made the effort to fill her apartment more.

She now had a coffee table, and a few shelves along her walls with one or two knick knacks on them. She'd even bought a bookshelf, and while it was still mostly empty, it did hold six books and a candle. She'd gone out today and bought two pillows for the couch, and a throw blanket folded over the back of it.

Evan had been trying to dress a bit nicer when Charlie came over. Before she'd worn mostly jeans and large sweaters. For the first time today, she was wearing something pretty. She'd bought it a few days ago. It was a bit simple, just a soft blue sundress, but she liked it. She'd even done her hair, hoping it would look pretty for Charlie.

She was puttering about a bit now, just waiting. The tea and cakes were already out. She hummed softly, fluffing the pillows for the tenth time.