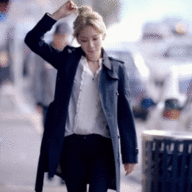 "storyteller" 🌻 contrary fairy
Messages

175
OOC First Name

Mika
Blood Status

Muggleborn
Relationship Status

Single
Sexual Orientation

Asexual
Wand

Curly 9 1/2 Inch Swishy Willow Wand with Unicorn Hair Core
Age

June 20th '38 (14)
Freya was experiencing emotions of the negative sort, and was at a loss for how to deal with them. It had only been a couple of days since the beginning on the school year, and Freya was already becoming overwhelmed by the school. She loved Hogwarts - as much as she allowed herself to care about anything - but the walls felt like they were closing in on her. The holidays had been especially difficult and she'd hoped everything would get better when she got on the train to return to her magical life, but that wasn't how things worked. She still had a brother she kept in the dark about magic, and nowhere to go except muggle foster care when Hogwarts kicked her out over the holidays, so Freya wasn't feeling extremely optimistic. She didn't even fully believe she belonged at Hogwarts, like maybe the last few years had been a fluke or a dream she was going to wake up from.

She was good at keeping a distance from people, even her friends. The word crashed around in her head even as she thought it. It still felt too heavy to think of another people as being her friend. Classmates and casual acquaintances she could handle, but friendship was a bridge Freya had never learned how to cross. It was far easier to fool herself into believing she could avoid growing roots and walk away from all the people who knew her name. Some days she just wanted to disappear, to turn into a ghost, and float away to never be seen again.

Freya had considered finding someone to talk about it. She knew there were at least a couple of muggleborns in her year who might understand her issues, but that would have involved opening up to people and there was always the risk that her frustration would be seen as irrational and stupid. So, she did what she did best and ran away from her problems. Hiding out in a bathroom wasn't her favourite idea of places to be, but she didn't think anyone would find her there at least. Freya scowled at her reflection as she approached the mirror above a sink. She wondered what it would be like to look in a mirror and see somebody else. Freya didn't even realise that she'd pulled out a pair of craft scissors from her bag until she was holding them up to her shoulders. "Rest in pieces," she muttered as she held on to one of her braids and began cutting. Wisps of pale hair fell to the ground in messy clumps, and Freya laughed out loud as she saw the damage she'd caused. A hairdresser, she certainly was not.