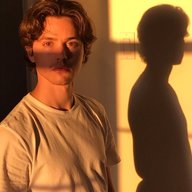 Beater & Gryffindor Captain
Jacob might have forgotten that he'd told Zennon he'd meet him after quidditch....two weeks ago. He didn't really have a good excuse other than that. Time had just sped away from him, but he'd finally remembered today and with a little free time on his hands, the Gryffindor figured he could make some time to see what Zennon wanted. It wasn't like he wasn't curious. Jacob still hadn't spoken to him since he'd gotten that rose last year, but he didn't think it was about that. Or maybe it was.

Arriving at the common room entrance, Jacob asked the first Slytherin he saw, a very tiny looking girl, to see if Zennon was inside. That done, the teenager leaned against the wall across from the entrance, his lanky frame portraying the picture of teenage nonchalance. His eyes quickly roamed over each student who passed, happy none of them were Diana Holland. He grimaced at the thought of her and then schooled his expression back into something more neutral.