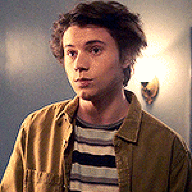 👍 co-captain👍 seventh year happy to be here👍
Messages

340
OOC First Name

Kadi
Blood Status

Half Blood
Relationship Status

Single
Wand

Knotted 11 Inch Flexible Oak Wand with Hippogriff Feather Core
Age

09/2040 (16)
Micha checked and double checked the supplies for todays practice as he waited for the team to arrive. They had a lot of work to do if they wanted to keep up their streak against Beauxbatons and have any chance at beating Hogwarts. The pressure of being seeker was already enough to make his palms sweat but now that he was captain it felt even heavier. But as the team started to arrive he turned to face them with what he hoped was a confident smile.
"Hey everyone!"
he said with a wave.
"Welcome to our new and returning team mates. I'm not going to take up much of our time today but I just wanted to remind everyone that our game against Beaxubatons will be here faster than you think so it's important to give it our all during every practice."
he said in a more serious tone than he usually use.
"So let's get started!"
Micha announced and released the bludgers and snitch before blowing his whistle and tossing the quaffle once the chasers were in the air.
Out of Character:

No arrivals! Just jump right into practice!
Ilvermorny,Practice