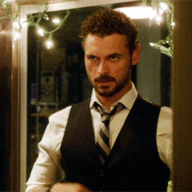 Herbology 5-7 | American | Handsome Devil
Messages

544
OOC First Name

Kris
Blood Status

Mixed Blood
Relationship Status

Seeing Somebody
Sexual Orientation

Bisexual
Age

5/2013 (41)
@Flynn North
vs
@Ronald Lazarao
This was it, they'd finally hit the last round of duels and Angel couldn't be more relieved. He hadn't considered just how many matches he'd need to proctor before he could call it a day and there were only so many times he could watch kids try to stun each other before he needed a break. "
Welcome to your final round of duelling! The victor will be crowned our fourth year champion so without further ado, when you're ready, please bow to your opponent and begin!
" He said with a flourish, motioning the students onto the stage and letting them get started.
---
The duel begins now. You have 24 hours from this to post your first reply, or face disqualification. Once both duelists have posted, you will have 24 hours from your opponents post to reply, or be disqualified. Ensure that you use the spell list for guidance on age-appropriate spells, and read over the dueling rules and points system. Duels will run until there is a winner or until 6 IRL days have passed, in which case the winner will be chosen by RNG. If you are knocked out or otherwise disarmed/incapacitated, or if you run out of points, you will lose and the duel will end. Have fun!

As an added note: Spectators are allowed to post in this topic once per competitors post, but are forbidden from directly interfering with the duels.
Code:
[b]Current Points:[/b]150
[hr][/hr]RP content[hr][/hr][B]Action(s) Taken:[/b]
[b]Point Changes:[/b]
[b]Points Remaining:[/b]