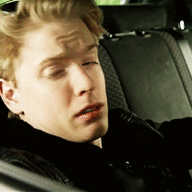 Werewolf • Monster • Struggling
Messages

245
OOC First Name

Jesse
Blood Status

Pure Blood
Relationship Status

Single
Sexual Orientation

Uncertain
Wand

Twisted 13 Inch Rigid Juniper Wand with Rougarou Hair Core
Age

July 2032 (18)
Alistair had tried the whole lone wolf thing. It wasn't working. Going it alone had seemed ideal not so long ago. He hadn't wanted to burden someone else with his troubles, or to rely on the support of other people - people he couldn't trust to always be there when he needed him, but Wolfsbane was incredibly difficult to brew, and ridiculously expensive to afford the ingredients for without a stable source of income, as it turned out. Alistair had been aware that it would be the case, yet somehow the reality was far worse than he'd imagined. There were no hand-outs from Hogwarts anymore. No more transformations every month that let him retain any sense of sanity. He'd been careful enough to keep as far from people as possible, but each and every full moon was taking its toll on him, both physically and mentally, and he wasn't sure how much longer he'd be able to manage it. The last few months had been unbearably painful to experience, and too many times had he woken up somewhere completely unfamiliar, trying to piece together his feral memories of the night before, or dressing the fresh scratch marks from The Wolf's frustrations. The Wolf. He didn't want to, couldn't possibly consider himself and that beast as one and the same. It wasn't him.​
​
September's full moon had come early in the month, and unlike other months, it was due another at its end. As much as he didn't want to admit defeat, to show vulnerability, Alistair needed help. Desperately. Yet, there weren't many people he thought he could trust to help manage his condition. There were certainly a handful of people in the world who claimed to be understanding and capable of offering assistance, but Alistair knew that not everyone was sincere and honest about their motives. Plenty of werewolves disappeared each year with no trace, and it hadn't been all that long ago that the Pipers had been sentenced for hunting them down. No, Alistair couldn't put his faith in just anyone.​
​
With an address scrawled on a piece of paper in hand, Alistair arrived outside of a house in Marton, and took a deep breath. It had been months since Leda had told him about her sister, and how she could help him if he needed it. He hadn't wanted it then. He still didn't. It was too much to ask, but at this point he felt like he didn't have any other choice. Alistair forced his legs to move toward the house and hesitantly knocked at the door. His reflection in the window was that of a disheveled mess, and the bandage covering his arm didn't help his worn down image. He could barely look at himself this way.​
Last edited: