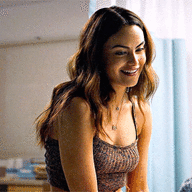 devastated | perfectionist | co-captain & seeker
Minnie had come straight to the library after the last defence against the dark arts class. She had to stick to her schedule, she didn't have the time to meander away from it, but her heart wasn't in it at all. It felt silly, she felt silly, watching a spider die wasn't like a big deal, it was just a spider. But it wasn't like crushing it with a book, or wasn't like being careless. The class had felt senseless. The whole unforgivable curses felt so senseless to her. It just felt awful. She had never experienced death and she had obviously therefore never experienced death in that manner either. A minute of sitting in the library had just told her that she wasn't going to manage to study in the oppressive silence, so she'd grabbed a few things she might need and headed to the great hall.
​
​
Minnie wanted to go to the kitchens, but students weren't supposed to be there and she didn't want to break the rules. Going back to the dorm or common room would result in little work getting done, but the great hall, she couldn't exactly hide. She would feel the pressure of the eyes to work. She didn't know why seeing the unforgivables had put her so on edge, why this had affected her so deeply but it had. She guessed she was probably the only one, everyone else in her year just seemed so much together than she ever felt. She sat down at the edge of the ravenclaw table, ignoring how her hands shook as she put her notes and books in front of her. Maybe it was just the finality of it. Like there had been no way for the spider to escape, there would've been little chance even if it could move, the spell was so quick. She tried to concentrate on her books, and get the necessary work done, but Minnie knew she was making little progress. Most others would've probably taken the afternoon to compartmentalise it, but she didn't have the time for it. She had to work.
​
​