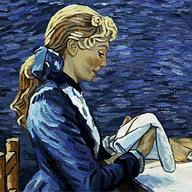 5th Floor Portrait 🖼️ You get the Picture
Open after Maria posts with Alexander
It was that time of year again, where the quiet chill of the castle had lifted and the students were beginning to come back. Not that Blue could feel the cold, but looking out the window into the slate grey sky of winter she could just
tell.
The gloomy skies often matched her mood over the school breaks, the quiet of her hallway feeling particularly oppressive until Spring when the school finally woke up again.
Classes weren't quite back in full swing yet, and without swaths of students to chide, Blue had busied herself with her frame. She could swear there was a dust mote that had settled on the lower left corner, and while it was unlikely she was going to be able to do anything to it, Blue still swatted at it intently, huffing to herself when the dust stayed unsurprisingly unaffected. "
You're being quite obstinate, you know.
" She scolded the dust sternly, hoping maybe she could shame it into leaving her frame. If she had to wait for one of the caretakers to come take pity on her it would drive her crazy.