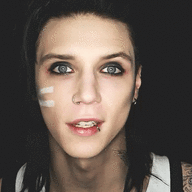 Dramatic- Loyal- Growing- Soft Boi
Messages

877
OOC First Name

Jess S
Blood Status

Mixed Blood
Relationship Status

Married
Sexual Orientation

Eternally Smitten
Wand

Cedar Wood, Hippogriff Feather core, 13 1/2 inches
Age

12/23/2033 (22)
Onyx was terrible at keeping secrets, he really was. But this was a secret of his own. Really, it should have made it easier. He snuck out of the house, the case slung on his back, and within fifteen minutes he'd come across a nice, hidden spot on the outskirts of town. A little part of Onyx thought he could just go to Jamies' flat instead of sneaking around like this, but Onyx wasn't sure what the Frenchman would think of this, and probably not-so-surprisingly, Jamie's opinion mattered a great deal to Onyx. And unlike the piano, which was both strangely new and oddly familiar, Onyx had no real experience with this prior to his accident.

Onyx settled down underneath a tree, the grass cool on his bare feet. He hadn't meant to take off without his shoes, but he'd almost been caught by his uncle. Onyx wasn't ready for his uncle James to know, either. He had started lessons not long after the accident, when he'd still been blissfully unaware, and had originally meant for it to be a surprise. But, as his memories returned, so did a few of his worries. Onyx was supposed to be remembering, he went to therapy and he went to the doctors and he was supposed to be trying to regain who he was. And this, well, this was new. This wasn't the old Onyx, this was for the now Onyx. And he couldn't help but worry that if his uncle found out how much time Onyx had been putting into this, well, he would be upset, and Onyx didn't want to upset his uncle.

Pushing aside his worries, Onyx pulled over the case and smiled softly as he opened it. He ran his fingers over the smooth ebony wood, before gently lifting the violin from its case and setting it to his shoulder. He took a few moments, running through a few of the warm-up exercises he'd been shown when he was still taking lessons, before starting to play a soft, sweet melody. He shut his eyes, smiling softly and letting the music wash over him.