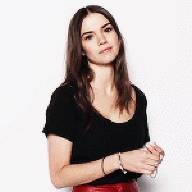 Bartender @ The Medley//Dervish & Banges Assistant
Lyla Edwards walked through the boatyard towards her sailboat. It was given to her by her grandpa and it was her most prized possession. She needed to do some routine boat cleaning and maintenance, it was almost time to prep the boat for the winter. Lyla held a crate full of supplies in her arms and set it carefully next to her sailboat.

Deciding to start with scrubbing everything down with some soap and water, she retrieved a water bucket and added some soap. Lyla dipped her sponge in the soapy water, crouched down on her knees, and began to scrub the side of the hull.