Bartender @ The Medley//Dervish & Banges Assistant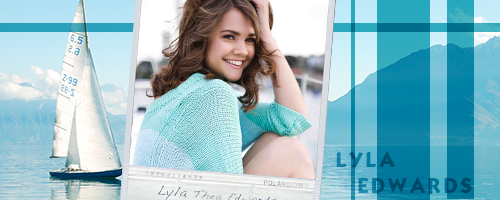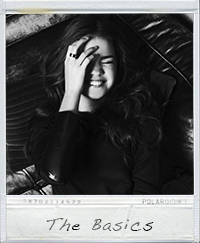 Character's Name:
Lyla Thea Edwards
Character's Birthdate:
May 5, 2023
Hometown:
Auckland, New Zealand
Blood Status:
Half-Blood
Wand:
27.94 cm Applewood, slightly springy, unicorn hair core
'An unusual ability to converse with other magical beings in their native tongues is often found among apple wand owners...Unicorn hair generally produces the most consistent magic and is least subject to fluctuations and blockages.'
Educated At:
Hogwarts School of Witchcraft & Wizardry - Scotland
House:
Hufflepuff
Occupation:
Bartender at The Medley (Dec 2048), Sales Assistant at Dervish & Banges (Feb 2049)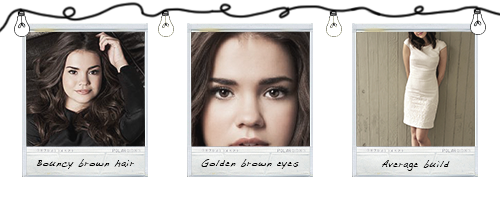 Hair:
Brown, shoulder length, usually curled
Eyes:
Golden brown eyes
Height:
5'6'
Style:
Likes to dress retro with a modern twist, she likes to show a little bit of skin but not too much.
Other Distinguishing Features:
Lyla has a 2-inch long scar on the back of her right shoulder blade from falling out of a tree when she was 8 years old. She has a small scar on her left index finger from a wand incident during charms her 4th year at Hogwarts.


There is a scar down my right shoulder blade about two inches long. I was eight years old, and I made a bet with my older sister, 12, that I could climb the tallest tree in the woods by our house. If I did it, she would do the dishes for two weeks. If I failed, I would have to do her chores all summer. Now, as an adult, I understand why this was a terrible idea and yes my sister should have known better. Anyway, I reached the top of the miro branches and pumped my fists in the air. In doing so, I fell out of the tree, reaching for any branch I could I grabbed myself before I dropped. Dislocated my shoulder, and a branch got me bad in the back, my sister had to help me get down. She promised she would do my chores for the rest of the summer if I didn't get her in trouble with Mom, so I took it. We made up a story that would be less likely for either of us to get in trouble and I still don't think Mom believed it, but she didn't seem to want to ask more questions.
Lyla Edwards is a very compassionate, loyal, and generous person. She gets along with others because she is quite a charismatic type; however, she can be a little impatient and untidy. Lyla is very passionate about the things she believes in and is quick to take action where she feels the need. She is not afraid of taking on new opportunities and reaches for them whenever she can, but with her ambitious attitude combined with her struggle to be patient, she can find herself becoming sad or stressed when not progressing. She fears a lack of control in her life and tries to be ready for any scenario and is often quick to react.

She is very direct, yet maintains a charming attitude about everything. Lyla is very outgoing and talkative and if you let her she will talk your ear off; she tends to be very good with social cues though. Sometimes she can come off as demanding under pressure. Not only does she value being respected by her peers, but she also wants to be genuinely liked.
Mother​

Barbara Geraldine Sullivan (Age 48)
Muggle Born
Journalist
Divorced

Father​

River Martyn Edwards (Age 50)
Muggle
Plumber
Married (Samantha Lee Edwards (Age 47))

Sister​

Tracey Pamela Edwards (Age 29)
Half-Blood
Journalist
Single

Half-Brother​

Gareth James Edwards (Age 15)
Muggle
Student
Single
Lyla Edwards was born to Barbara Sullivan and River Edwards as their second daughter. Her sister, Tracey Edwards, proceeded her by four years. Lyla and Tracey had and continue to have an inseparable relationship. Separating when Lyla was seven years of age, both her sister and her remained in the house with her mother, Barbara. River remarried when Lyla was 10, this caused some riff in her relationship with her father, but she came around when her half-brother, Gareth, was born. Gareth and Lyla grew up in different homes and still see each other frequently.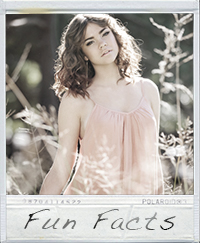 Special Talents/Abilities:
Crabwalk

I really don't have any super unusual talents, but I can crab walk!
Hobbies:
learning new languages, eating at new restaurants, and photography

If I suddenly got a superpower it would be omnilinguilism. I'd like to think it also includes being able to talk to animals since I could potentially speak their language. Being able to speak any language would allow me to help anyone and make friends everywhere I go, I love to travel and I love to help people!
Likes:
jigsaw puzzles, card games, glamping, traveling, charity work, sailing
Favorite Food:
pizza, chocolate biscuits
Dislikes:
crispy tofu, pears
Phobia:
ducks
Allergies:
bananas, seasonal allergies
Lyla Edwards grew up in Auckland, New Zealand with her older sister, Tracey and her parents. Soaring through her childhood with quite the braveness and confidence, her parents decided to separate when she was seven years of age. Her parents break up was very hard on her and her sister, even though her parents still got along just fine with each other. Lyla and Tracey remained in the home with their muggle born mother. Lyla spent most of that time alone because her sister was already off to her first year at Hogwarts. At ten years old, her father got re-married to a beautiful woman named Samantha. Samantha was deemed unlikable by Lyla at first but eventually spent more time over there because her baby brother, Gareth, was born.

A year later, Lyla and her mom moved to England, and she started attending Hogwarts with her sister who was then a 5th year. Lyla had an interesting time with the sorting hat as her personality is very loyal and generous, but her ambition and bravery counterbalanced that. Ultimately, the sorting hat chose Hufflepuff over Gryffindor after much deliberation. Lyla graduated school scoring fairly decent on her N.E.W.T.'s. After graduation, she returned to New Zealand where her father lives to pursue a different career.

The ambition spirit she was, she struggled figuring out exactly what it was she wanted to do. She wanted to fight for justice, but what justice? What exactly did she believe in? Her mother encouraging her to join her and Tracey in the journalism field back in England, meanwhile Lyla keeps her eye on the Ministry of Magic in New Zealand. As time goes on, she grows more pessimistic but remains just as eager to succeed.

Lyla has spent her time in customer service for the past year and a half and enjoyed working with people daily. She was starting to stray completely from working at the ministry now, as it seemed quite difficult. Her lack of progress towards entering the ministry has left her discouraged. Lyla is hoping now to own a business of her own one day.
Last edited: