Rowan Kylie Baros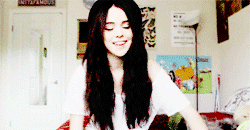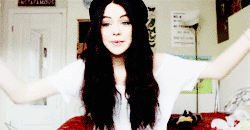 It's you, it's always you
If I'm ever gonna fall in love I know it's gon' be you
Met a lot of people, but nobody feels like you
​
Name: Rowan Kylie Baros
First Name Meaning: "little red head"
First Name Origin: Scottish and Irish
Middle Name Meaning: "a boomerang"
Middle Name Origin: Australian Aboriginal
Last Name Origin: Habitational name from any of several places called Barros, named with barro 'loam', 'clay'. Hungarian: from a pet form of the personal names Barnabás (see Barnaby) or Bertalan (see Bartholomew). Czech and Slovak (Baroš): from a pet form of the personal name Bartolomej (see Bartholomew). Polish: from a pet form of a personal name beginning with Bar- (Bartlomiej, Bartolt, or Barnaba). Greek: nickname from Albanian mbarë 'happy', 'lucky'.​
Nickname?: Ro, Rrrrrrooowaaaaaan
So, please, don't break my heart
Don't tear me apart
I know how it starts
​
Color: Pearl White
Least favorite color: Periwinkle
Music: Wizard Rock, Indie, Songwriter
Food: Anything vegan - she is particularly fond of Peanutty Edamame and Noodle Salad
Literature: Rowan doesn't really read
Form of entertainment: She loves dancing and watching dancing
Expressions: Rowan expresses herself through poetry and dancing
Mode of transportation: She loves driving with her Dad - she can't wait to learn with him next year
Most prized possession: Elsie's Art Book
Previously: The apology letter Elio wrote for her
Previously: Her camera
Flower: Rowan does not have a favourite flower
Trust me, I've been broken before
Don't break me again
I am delicate
​
Date-Of-Birth: 12th July, 2035
Place Of Birth: Obsidian Harbour, New Zealand
Current Area Of Residence: Obsidian Harbour, New Zealand
Birth Parents: Nadine and Wyatt Baros
Heritage: American
Please, don't break my heart
I know how it feels
To be open
​
Gender: Female
Height: Rowan is about 5'2 or 156 centimetres tall
Weight: Rowan is quite petite
Dress Code: Rowan likes to wear skirts, dresses and denim short shorts including booty shorts example
Sexual Orientation:

Demisexual
Turn ons:
Soft Touches

Sweet nothings

Laughter

Physical closeness

Random dates

Thrown over shoulder or carried
Relationship Status:

It's very complicated, bro
First Kiss:

Rowan's first kiss was with Elio Zephyr on Valentine's. It didn't quite go as expected
Innocence:

--
Skin Tone: Light
Skin Type: Type 1
Hair Colour: Natural Brown
Hair Type: Medium waves
Hair Length and Thickness: Cropped and thick
Eye Colour: Crystal Blue
Playby: Acacia Brinley Clark Kersey
Distinguishing Features:
She has a small scar on her inner thigh from where she dropped a curling iron as a child, a Capricorn tattoo on her wrist, semicolon tattoo on back of ear, xoxo tattoo on finger and sentence tattoo on right shoulder, braces, a nose piercing, a navel piercing and multiple piercings in her ears as well as a recent tongue piercing.
​
Health Status: Healthy
Allergy/s: Rowan is not aware of any allergies though dust and smoke trigger her asthma
Suffers From: Mild anger issues, asthma, depression,
slight OCD
Blood Status: Pureblood
Blood Type: AB +
And then find out your love isn't real
I'm still hurting, yeah
I'm hurting inside
​
Education: Hogwarts New Zealand; Gryffindor
Subjects Taken for OWLs/NEWTs:
OWLS
Transfiguration

Care of Magical Creatures

Potions

Defence Against the Dark Arts

History of Magic

Charms

Astronomy

Herbology

Muggle Studies

Divination
Wand: Straight 12 1/2 Inch Rigid Cherry Wand with Vampire Blood Core
Good Traits:
Dependable

Protective

Compassionate

Caring

Wise

Honest

Loving

Joker
Bad Traits:
Quick to anger

Prideful

Fierce

Overprotective

Resistant

Violence Prone

Cruel
Interests and/or Hobbies: Photography, poetry, dancing
Additional Skills: Photography
Graduation:
--
Current Job: Student
Boggart: Public Humilation - Being humiliated in a big group, publicly. She's already faced this at least once when she was humiliated at the Valentines Dance by Elio after after he rejected her​
Patronus Memory:
When Elio told her he loves her
Dementor: Hearing the absolute worst news of her life, the death of her father and sister
Animagus: Lion
Patronus: Lion Rowan is loyal to a fault and doesn't always pick the best course of action, though she often does try to weight the pros and cons, she does so only with the intention of biding some time. Nine times out of ten she already knows what she's going to pick and continues with her already though out plan [x]
​
Languages:
English
Accent: Mid Western and Kiwi
Piercings: Multiple ear piercings and nose piercing
Tattoos:
Capricorn tattoo
: Rowan's first tattoo was one she got on her fifteenth birthday. She wanted something to help remind her of Elio, but wouldn't be too much of a commitment if he told her she shouldn't have gotten it. This tattoo has pride of place on her inner left wrist.
​
Semicolon tattoo: After Elsie's and her dad's death, Rowan didn't take it too well and so, in order to help her overcome her emotions, Elio took her to get another tattoo. This symbolises that life goes on, even when it's hard. Rowan's life doesn't stop just because she's in pain. This is on the left side of her head, behind her left ear.
​
Dad, I love you tattoo: The last thing Rowan said to her father before he died, immortalised on her skin. She wanted a reminder of the relationship they shared, even if they weren't as close as they should be. This is on the right side of her body, just on the back of her right shoulder.
​
xoxo tattoo: The last thing Elsie texted before she died, Rowan wanted tattoo on her finger. This was always Elsie's sign off and even if she didn't sign her name, this was how people knew who had written. It didn't matter what medium, including her art, xoxo was always the sign off. This is on her left hand, middle finger.
​
Last edited: