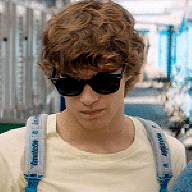 Messages

44
OOC First Name

Sophia
Blood Status

Mixed Blood
Relationship Status

Too Young to Care
Sexual Orientation

Heterosexual
Wand

11 inch Alder Wand with Fairy Wing core
Age

11
Heeeey!
So I feel really motivated about these my two characters, they are so sweethearts that I melt when I talk, write or do something about them. So here we go!

Kiara Wood-Mcleod
4th Year Ravenclaw

She was born and raised in Paris, France, she even learned in Beauxbatons until now. In the first days of June her parents and grandparents from mom's side died in a car crash and she was adopted by her God-father and favorite uncle (it's the same person) Jackson Mcleod. She moved to New Zealand and transferred to Hogwarts New Zealand and got in Ravenclaw. Her mom was from France, dad from America (while being child, he moved to NZ, Hamilton) and her grandma from mom's side was German, so Kiara can speak French, English and German. Even after her parents death, she didn't lost her positivity because she got taken away from France fast enough before she really understood what happened and her uncle didn't let her lose herself. So right now she feels like she is kinda over her parents death even if she parted life in big BEFORE and AFTER. Kiara is confident, friendly, funny (at least she thinks so), sweet, supportive, naive, trusting and trustworthy, and impatient. She loves making funny faces and making others laugh. She loves tie dying, hair braiding, swimming, playing violin and dancing ballet. Absolutely crazy about ice-cream, cacao, cotton candy, lollipops and strawberries. She still doesn't really understand that she is biromantic heterosexual demisexual.
She extremely needs friends and best friends. I am down even for one-sided crushes, little relationships, short-time crushes because she is in that age. Maybe even for enemies or frenemies. She is down to befriend even first years.
Nathaniel Kol Traynor
1st year, Gryffindor

​
Nate is just sooo sweetheart, I can't

He is the oldest sibling and he is one of triples. He is also only boy in the family so he isquite girly and absolutely loves his sisters. He was born and raised in Wellington, New Zealand. Nathaniel loves making food, writing, reading, doing his sisters makeup and styling their clothes, plants, tidying his room. He is also sweet, caring, loyal, shy, mature, responsible, supportive, sympathetic and hard-working. He would never harm anybody or somehow attack, he would maybe insult if someone'd touched his sisters. He can imitate almost anyone's voice and he gives names to things that are close to him. For example, he calls his aloe vera Antionette and his wand's name is Victarion. Nate takes his Antionette out almost every evening and cleans her leaves once a week, always has everything to care about her.
He is not that problematic type but still he Can have enemies. He absolutely needs friends and bestfriends/bro's.