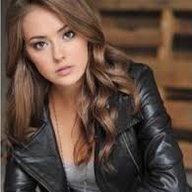 Thrill Seeker || Twin of Harper Fletcher
Messages

133
OOC First Name

Harleigh
Blood Status

Mixed Blood
Relationship Status

Too Young to Care
Wand

Knotted 18 Inch Flexible Hazel Wand with Phoenix Tail Feather Core
Age

12/2037 (14)
Elizabeth heard the headmistresses word's very clear. The Forbidden Forest was forbidden.
It can't possibly be that dangerous, it's on a school grounds!
She had waited until after dinner and made her way closer and closer to the edge of the forest.
Just one little look and then I can come back.
Elizabeth didn't typically break the rules, but an adventure too tempting was hard to resist. She had to uncover the secrets of the forest and see just how dangerous it actually was. Nervous to break the rules, she hesitated by the edge of the forest.
If she got caught she could get in trouble, but she was new. Her brother would be upset with her if she got caught.
Maybe this isn't the best idea after all?
A voice behind her caught her attention, she jumped into the forest to hide in some bushes. Pushing aside a bit of the bush, she looked towards the voice she heard.
Too late to back out now.