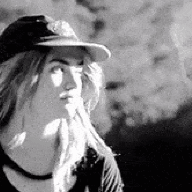 we are born not once, but again and again
Messages

1,339
OOC First Name

Ana
Blood Status

Muggleborn
Relationship Status

Single
Wand

Straight 12.5'' Flexible Larch Wand with Dragon Heartstring Core
Age

17
Harper was sick of being scared. Her animagus training had ground to a halt, and she knew the only way she could move forward was if she got over her fear of transforming. It had taken her a few days to come up with a plan. The lessons with Professor Abberline weren't helping, and she wasn't foolish enough to practice on her own. But Harper thought she'd come up with a workaround. There were probably smarter ways of going about this, like working with a professional, but she had neither the time nor the desire to seek out the school counselor. In just a few weeks, Professor Abberline would leave, and she'd once again be left on her own.

The first step was to go back to the scene of the accident. Harper took a deep breath before entering the abandoned classroom. To her relief, she felt nothing out of the ordinary. In fact, she felt a little silly for worrying that somehow just being back here would trigger a flashback. So Harper decided to move on to step two: Force a transformation. Setting her bag on one of the desks, she took out a box of canary cremes.

Technically, this wasn't the first time she'd had to deal with a fear of transforming. Back in first year, Harper had been tricked into eating a canary creme — a rather distressing experience for a muggleborn who hadn't known it was possible for magic to turn people into animals. She'd eventually gotten over her fear, and one of the things that had helped was eating another canary creme on her own terms. Hopefully she could do something similar today.

Harper took out one of the biscuits and studied it, her heartbeat picking up. Even though she knew it was irrational, she could feel the chill of fear start to creep in. Harper didn't know what was driving this instinct, but she did know she wouldn't leave the room until she'd either numbed herself to it or gotten rid of it entirely. She popped the biscuit into her mouth, forced herself to chew, and with a small shudder, she transformed into a large canary.