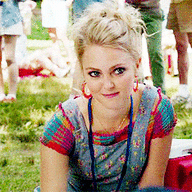 Artsy- Outgoing- Bubbly- Eldest
Ava had run crying through the lawn, barely able to see. How could he? How could he? She hated him right now. Philip's words still rang in her head. What, he didn't care that Nora jinxed her? So he could love her, but others could hurt her and it was okay, so long as they meant well? And his final words. Making sure she got to class okay. Without speaking to her. Knowing how alone she felt. How abandoned she had been. And trying to make it seem like she had to choose between him and Vader. He was just, just so cruel sometimes. What sort of love was that? Hurt, broken, and terribly upset with him and with herself, Ava ran as fast as she could to the one person who would always really love her.

Still sobbing, Ava bolted into the courtyard, rushing to the door she couldn't get through. Hand over her mouth to stifle her cries, Ava raised a trembling fist and banged on the door. Merlin, please let him be here. She needed him so bad right now. She didn't know what she would do if Vader wasn't inside. She slid to her knees in front of the door. Wrapping one arm around her torso, Ava bit her fist to try and calm herself.