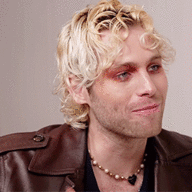 Class of 2043 | Ice Cream Scooper | Gryffindor
Messages

608
OOC First Name

Anna
Blood Status

Unknown
Relationship Status

Single
Sexual Orientation

Homosexual
Wand

Straight 12 Inch Flexible Ash Wand with Phoenix Tail Feather Core
Age

5/2025 (27)
Set during the summer break of 2050.​
​
Archie had endured weeks of excruciating and tedious searching, of asking countless questions and traveling back to the orphanage he first called his home, of visiting hospital after hospital to sort through public records. All to create a web of potential leads and slowly although surely narrow down all possible options to finally figure out where he really came from, who he really was, and who his family really were after twenty-five years of his past being a complete mystery. Archie didn't know how he had managed without going completely insane, the meticulous details and countless words on countless pieces of paper and countless names of people who might be his family taking a toll on his mind, and the constant task of following up each lead and finding most of them a dead end placing a heavy burden on his emotions. But with Orwell's help, knowledge and emotional support through such a trying task and uncertain time in his life, Archie waded through it, eventually coming out the other side from the chaos of his search with both a name and an address he believed belonged to his birth mother.​
​
Archie could hardly believe they had gotten so far, how they had begun their search with such little information and ended up with a real result, a light at the end of the tunnel that was the name of a woman who fit all of the circumstances he knew about his arrival to the world, at least on paper. Now all that was left was to meet this woman and ask her so they knew instead of assumed she was one of the two people he had been searching for. Regardless of the uncertainty of whether this woman was his birth mother, or her profile fitting his circumstances was a mere coincidence and he would leave that day defeated, needing to begin his search all over again, Archie couldn't hold himself back from feeling excited to meet her. As anxious as he was about the meeting and as anxious as he had been writing an owl ahead of his and Orwell's arrival to her house, there was a twinge of excited anticipation in his heart that this woman was his mother, and knowing her would finally provide him answers to the many uncertainties he had about himself. To think all the things he never knew, all the questions he had about himself would fade into his past and be replaced with something real and tangible, it was impossible for him not to feel excited about meeting her despite his nerves.​
​
He apparated to the suburban street listed in the woman's address, nervously intertwining his fingers with Orwell's as they strolled a few houses down, counting the numbers until they reached the one they were looking for. Painted white and with a manicured lawn, it was quaint and not unlike the other houses nearby, fitting the humble suburban setting he expected when he first thought about what meeting his birth mother would actually be like. Archie paused in front of the gate, holding his breath and looking down to Orwell. Nerves suddenly overtook his excitement and his feet felt rooted to the ground as the gravity of what was about to happen hit him. Quaint setting or not, Archie couldn't keep himself from swallowing nervously as he looked back over to the house, any bravery he had leaving him. "Um, can you knock on the door for me?" He asked his best friend, trying to take deep breaths and calm himself.​