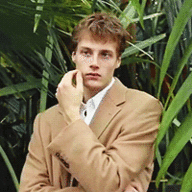 🍬 Alt Chaser | Honeyduke's Assistant 🍬
Messages

327
OOC First Name

Anna
Blood Status

Mixed Blood
Relationship Status

Seeing Somebody
Sexual Orientation

????
Age

15
Set after the 2052 Yule Ball. ​
​
The sun was setting later than usual, truly reminding Knox and surely all of Hogwarts that summer was well and underway in New Zealand. It changed Knox's sleep patterns and otherwise messed with his mind, but the sense of twilight in the sky as the yule ball ended was something Knox was thankful for, as he arrived to the great lawn with Clifton, his date, to keep him company. There was enough light to see his surroundings and enough light to convince him the night wasn't truly over, and wouldn't be over for a little while longer, as Knox paused his steps and shifted to sit comfortably in the grass. They still had time to spend together, to get to know each other more before it was lights out and they returned to their dorms. Knox wanted to make the most of it.​
​
Knox smiled, patting the grass near him in an invitation for Clifton to join him and for them to finally have a chance to be alone and talk for the first time that night. For the first time ever really. "This has been fun, thank you for being my date." Knox admitted, feeling a bit bashful but not wanting to hide it. Despite the commotion with Blake Irons being punched in the face, the date and silly photo shoot with Clifton had gone so well. Contrary to when he spent time with Simon, Knox felt comfortable, and content with Clifton, and as if showing feelings and being genuine was normal and expected. He was thankful for that night and for the felix felicis influencing him to ask Clifton out, as after their time at the dance Knox was sure getting to know Clifton was right, whatever that meant in the grand scheme of things. Knox couldn't wait to get to spend more time with him.​