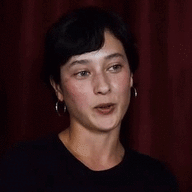 fifth year | middlest | ollivander's asst.
Messages

460
OOC First Name

Kadi
Blood Status

Mixed Blood
Relationship Status

Single
Wand

Knotted 13 Inch Unyielding Hazel Wand with Essence of Belladonna Core
Age

01/2040 (15)
Delilah was used to feeling worried about one thing or another. Usually it whether or not her friends liked her, or how her lessons were going, or even what would be the next thing to tip her family into social ruin. But for this afternoon she felt fine. She had finished her studying ahead of time and wasn't due for patrols with Lysander for a few more hours. She had even managed to turn off her brain and enjoy the quite corner of the student lounge she had carved out for herself. She sat in a large chair next to a window and pulled out a book she had checked out from the library at the beginning of the semester but was just finding the time to crack it open now. She doubted she would have time to finish it before it had to be returned but she brushed that thought aside and held firm, wanting to enjoy herself.