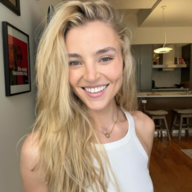 impulsive; thrill-seeker; independent; training ⚡️
Bleak Street was one of those places that when Geo was younger, she'd only ever imagined entering. It wasn't somewhere she wanted to go unless she knew what she was doing, but now that she was training to be a fully fledged Auror, it was included in the list of areas around New Zealand that would be patrolled. There had been a few investigations over the last few months in the area, since it was known for its dark arts, although today Geo had been paired with another Auror in training as they were there to observe the streets and become better acquainted with the environment. The blonde was still working on her alter ego, and honestly she thought that in places like this, it was probably better to go by that person rather than as herself. She was unusual in the sense that she was able to transform her features to be unrecognisable as her usual self, and not wanting her own face to become too much a familiarity in these parts, it was her alter ego that made its first professional appearance that day.
​
​
Geo hadn't changed herself fully in front of anyone since Amber caught her in her second year, but today there was a reason for what she did, and besides, it wasn't as though she was trying to look like someone else, so much as she didn't want to look like Geo. Her blonde hair had morphed into a wavy brown style, pulled back into a ponytail, and her features softened as lightly as she could. She didn't want to stand out in the crowd, so simplicity was key, and the auror wanted to make sure that it was easy to maintain while in the presence of other people. To anyone outside of her work, she'd introduce herself as Alicia, complete with a few key details of her alter ego's life if she needed them. As she waited for her colleague to arrive, Geo was careful to look interested in one of the shop windows, while remaining aware of her surroundings. ​