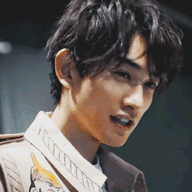 boy racer + toyohashi tengu keeper + drift king
Messages

18
OOC First Name

Charlie
Blood Status

Muggleborn
Relationship Status

Single
Wand

Curly 14 Inch Sturdy Sycamore Wand with Meteorite Dust Core
Age

6/2028 (25)
Hiro was usually a pretty sociable and talkative guy. He had no problems with going up to strangers and talking and talking. However, he did feel slightly out of place right then. The Quidditch Leagues around the world had decided to host a training camp for all their Professional players, a chance to train and practice with players from around the world, and a chance to bond and make some new friends. On the surface, it sounded like a great idea and Hiro was all for it, but now he was here, he couldn't help but feel a little awkward around all these strange faces.
His fingers anxiously flattened down the 'My Name is Hiro' sticker he had stuck to the front of his shirt, dark gaze shifting over the other name badges he could see in sight as people milled about the room. It was the first day and it was supposed to be a chance to introduce yourself to others and make some friends before the drills started tomorrow morning. And a lot of other players were happily smiling and laughing in groups already, leaving Hiro standing awkwardly to the side by himself. Not really the best way to make some friends. But he did notice that there was someone else nearby who also seemed to be by herself, so not wanting to get left out, he cleared his throat and tried a smile and in a greeting in the best English he could manage.
"My name is Hiro, it is nice to meet you."
@Odette Madison