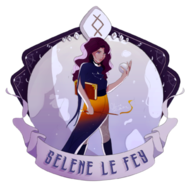 Twin, unsure, is it déjà vu or something more?
when Selene had received her roses her heart had sank. out of all of the people in the school she had to deliver to she had
@Tyler Lee
. the boy who had upset her at the yule ball. well, at least it would be an easy delivery. she had a class with him this morning. as she had sat in the class she had hardly focused on what Professor Sword was talking about as she had been so nervous about having to give him a rose. once the class was over she stood up and walked over to him. she could at least get this over and done with now so she wasn't worrying about it all day.
"Tyler"
she said. stopping next to the desk he was at.
what would helia do
she asked herself. but wasn't quite sure.
"It's rose day and someone sent you a rose"
she said before looking in the basket for the one with his name on it.
Last edited: