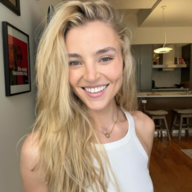 impulsive; thrill-seeker; independent; training ⚡️
Geovanna was angry, angry that she'd ever let anyone get as close to her at the school as she had allowed Jess and Leila to. Riley had been different, she'd been a girl she'd grown up with like a sister since they were just a couple of years old, and despite being now in separate schools the pair would still talk on occasion and write to another. Moving to New Zealand three years ago however had been a new experience for her, and after putting herself out there and befriend a couple of Gryffindors, she'd quickly become attached, resulting her feelings being ultimately smashed when during the holidays they'd abandoned her. Anger had been boiling over the holidays, but she'd managed to remain reasonably calm during the weeks spent with Vil and her family, learning about her dorm mates upbringing, and the Hufflepuff had kindly lent an ear on the occasion she did bring up her ex-best friends, and for that she was grateful. It wasn't enough though now to talk. Last year she'd promised herself to pick up another skill by her fourth year and she'd just done that, and even though she wasn't able to practise her martial arts at the school, it had been a good chance for her to get out her angry energy.

Walking from the common room down to the Great Hall, the blonde had stopped outside the Trophy Room. It was early and as usual Geo was already up and about, thoughts bubbling around in her head as they did when she were alone these days. How could they have done that to her? She did nothing but her best during their last year, when they practically spent most of their time in their common room, and her Valentines note had been a desperate attempt at getting their attention. Crossly she entered the room off the corridor. No, she should have noticed this coming sooner. They didn't need her or want her no matter what they'd once said. It was more than being left behind by the family she'd made. She knew it was wrong but she couldn't help but think that she shouldn't have let them in in the first place, then none of this would have happened. She was better on her own then no one would be able to let her down. It had thrown her perspective of those she'd trusted, recalling every conversation to see whether they too were on the horizon of discarding her. Looking around the room, the trophy room was in perfect condition, showing off the best of the school and believing that even her name was in here a couple of times from last year, her blue eyes hunted around for the names.

Why should she always be the one to get left behind? Wasn't she just as worthy of love and friendship that those around her? She put her heart into everything she did, and had spent the last few years trying to prove herself, and while her emotions may have been an overreaction and something she would come to terms with, right now they were very much on the surface of her mind. Geo found her name, etched onto one of the trophies for the most house points for Hufflepuff. She'd be proud of her efforts but wasn't it all in vain if she were alone? Angrily and without much thought, with shaking hands the fourth year threw the trophy across the room as hard as she could, watching it sail through the air until it made contact with a glass cabinet, shattering the frame and littering the floor with the sharp edges. This was no doubt going to cost her greatly if she were caught, but beyond caring about anything asides from the fact that she was the only person to have her own back, she proceeded to swipe her arms across another shelf beside her, scattering the newest across the floor with a satisfying crash. Who cared if someone walked in. She was a metamorphmagus and for the first time in her life felt the flush of fury that wasn't holding back. There were no tears, just the rage that was only going to be solved physically and without the ability to use her new found muggle style fighting skills, it was the closest she could get. She was a witch and would clean this up once she was finished, and hopefully before a professor had a chance to find out.
​