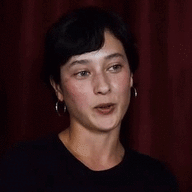 fifth year | middlest | ollivander's asst.
Messages

460
OOC First Name

Kadi
Blood Status

Mixed Blood
Relationship Status

Single
Wand

Knotted 13 Inch Unyielding Hazel Wand with Essence of Belladonna Core
Age

01/2040 (15)
It was still a little cold out but Delilah had wanted to indulge in the fresh air while she could and appreciated the sun that was doing its best to peak through the clouds to warm her just enough to be comfortable. She had known that her OWLs would be hard but she hadn't expected her assignments to pile up quite so fast. The garden provided a quiet and scenic place to study away from the stuffy and usually crowded library. She had been so optimistic that this year would be different for her. She had been so certain that her friends would all be prefects with her and they would finally be equals the the badges to prove it. But she had been the only one. She was proud of herself and what she had accomplished but she was now self conscious of it too. Did she even really deserve it? It didn't help that when she told her father he had seemed less than enthusiastic about the news. He had brushed her off to instead ask about her grades or interrogate her about why she felt she needed to get a job and how it poorly reflected on him. Her mother had reacted only marginally better and told her she had done good before floating off to do what ever it was she did to keep busy. She sighed and pinched the bridge of her nose to stave off a headache that was forming. Why was nothing ever good? Why did everything seem to be a curse in disguise?