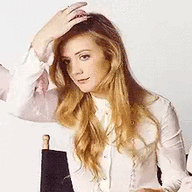 should've been born with a warning sign
Messages

82
OOC First Name

Donna
Blood Status

Unknown
Relationship Status

Too Young to Care
Wand

Knotted 9 Inch Sturdy Maple Wand with Essence of Belladonna Core
Age

10 (10/08/2044)
Continued from
here
Andi wasn't entirely sure where Hayden's, The Cafe, was, but she was sure they'd be able to find it. Getting there in half an hour was another thing, but excited for answers and to prove to Doroteya that she wasn't a crazy person, Andi zoomed on her bike there as fast as she could. She kept glancing around to make sure that Doroteya
was
still coming, and hadn't abandoned her, and every time she saw her, she grinned. Andi couldn't believe that she finally had a proper friend, someone to do stuff with,
and
that she was going to find out about the floating tree.
They finally got to the area where the shops were, and Andi looked around eagerly for Hayden's, The Cafe. Her eyes landed on it, and she shouted "
This way!
" At Teya, zooming there again, almost falling off the bike in her enthusiasm to get off. She left the bike on the pathway, running quickly into the cafe, looking for the face of the nice actor man.