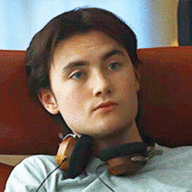 💥Estranged Cousin | Angry | Fighter | Sarcastic💥
Messages

542
OOC First Name

Daphne
Blood Status

Mixed Blood
Relationship Status

Interested in Somebody
Sexual Orientation

Straight
Wand

Vine Wand 12 3/4" Dragon Heartstring Core
Age

10/2036 (16)
Eric had been settling in at Hogwarts alright, as much as he could at least. He hadn't received a prefects badge, but he had never expected to get one either. The whole idea was laughable. So far, his fifth year was just normal, with the exception of the strange encounter on the train ride over. He still couldn't quite believe Nicole had asked him out, but it made him feel a bit more confident. He kind of wished he could somehow let Minnie know he had a girl interested in him, but it wasn't like she would actually care. She was with Noel, and that just pissed him off. But it didn't make him want to see Minnie any less.
So when she walked past him, he was alert and noticed where she was going, even though he pretended not to. She looked kind of upset and headed towards the owlery, which was where they had talked last. Eric hesitated, then grabbed a random piece of parchment out of his bag and followed her. The parchment was just an excuse, in case she asked why he was heading to the owlery himself. Minnie wasn't his friend, not really. At least, he figured that was out of the question as long as she was dating Noel. He could at least pretend it was a letter to someone. He hastily rolled up the scrap parchment as he headed into the owlery. Under not too much scrutiny it would probably pass for a letter. He hesitated for a moment, then stepped inside the owlery. It wasn't a very pleasant room, full of owls and owl droppings, but at least it was usually pretty quiet. It was just Minnie here, and Eric realized she really did look upset. He paused in the doorway, suddenly unsure what to do.
"Uh, hello."
He said after a moment.