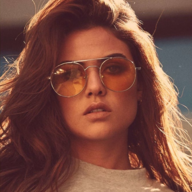 Tuscan Charms Beater • Gryffindor Alumni
[adminapproval=#30461252]Pacing around the Trophy Room Scarlet was looking at the accomplishments made by students before her, odd competitions which had been run like the Student Vs Professor Wheelbarrow race to which her Mother and Uncle had Won.
Walking down the aisles of glistening gold Scarlet came to the Quidditch Section she looked at the team pictures from years ago, some of the uniforms were amusing and looked completely uncomfortable to fly in, tucking her hands into the pockets of her Professional team Jersey, she compared it with the outfits of the past, her outfit was much more stylish with her surname on the back and her team number 02, she silently thanked who ever was in charge of professional quidditch outfits that she didn't have to wear a hat like the one she saw in the old picture.

Scarlet mused that she wasn't going to have her name on any of the trophies in this section, She was a Quidditch Prodigy, she was probably one of the best players in the school not to mention for her age and yet the captain of the team chose to bench her and in her place have a player who was banned from playing due to dumping manure in someones bed. She didn't blame them however, she put it down to sheer intimidation, they could not see past their own noses to know what they had right in front of them.

Scarlet knew this move wouldn't make her popular in her year regardless of her new status, some believed she was only talking a big talk instead of actually being a phenomenal beater, but again she couldn't blame them since she was barely allowed to play to prove herself. The Fifth Year had done what others had only dreamed. She, on her own merits had been accepted onto a Professional team beating out other players for the spot.

Walking a bit further down she came to her mothers years and saw Aeon and Kida in a team photo, she paused to look closer to make sure it was her uncle Aeon as she didn't remember being told that he was a Quidditch player. Pressing her nose almost onto the glass she exhaled in amusement which fogged up the glass slightly

'Well, well, well, Uncle Aeon has some explaining to do'

she said softly to herself.