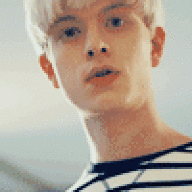 inventor | prankster | information hungry
'Etienne knew this was probably not a safe thing to be doing. And he also knew that it was probably going to get him into trouble, but he really couldn't help himself sometimes. When an experiment popped into his head he just had to test it out to see if it was going to work, regardless of if it were an against the rules or not. That is why he found himself standing at the top of the stairs on the first floor with full intent to try and sled down it. What he had in his hand was a tray he had managed to... obtain from the kitchens. He intended to give it back once he was finished. So, Etienne waited for the perfect, when there was no one about to come around the corner to tell him off. When he had the right moment, the first year didn't even hesitate, basically launching himself from the top of the single flight of stairs on his stomach, gripping onto the tray tightly with both hands. It was bumpy, it was slightly terrifying, but it was actually rather fun. And dangerous, he did note when he managed to lose his balance and go tumbling down the last couple of stairs, unfortunately managing to go right into someone trying to go up them.

Landing in a crumpled heap at the bottom, the first year just lay there in a crumpled heap for a moment before he started laughing, rolling over to sit himself up again. He was fine, nothing hurt, but he did remember he bumped into someone, turning his head to see who that someone happened to be. "Lily!" He hadn't expected it to be her, quickly scrambling to his feet, "Are you alright? I'm sorry, I didn't mean to hit you. You're not hurt, are you?"