moutohora macaws chaser alone & tired
------------------------------------------------------------
By yon bonnie banks ,
and by yon bonnie braes ,
------------------------------------------------------------

Say Hello to
Rory Eòghan Fergusson!
------------------------------------------------------------
Where the sun shines ,
On the banks of Loch Lomond ,
------------------------------------------------------------
​
FULL NAME: ​
MEANING:​
Rory -Is a Goidelic personal name in anglicised form, common to the Irish, Highland Scots and their diasporas. The meaning of the name is "red king," from ruadh
​
Eòghan - Possibly means "of the yew tree"
​
Fergusson - Is a patronymic surname meaning "son of Fergus." The given name Fergus, comes from Fearghas, derived from the Gaelic fear meaning "man," and gus meaning "vigor".
​
WHY:​
Rory's name was given to him by his mother, Rory's mother had always fancied the name Rory and after having two daughters was very glad to have a son she could name Rory, his father on the other had wanted to given him a gaelic name because he's always liked the way they were written, but lost the battle to his wife and settled on the name Rory. He got his input in the middle name given to Rory, that being Eòghan, which is written in english is Ewan, and pronounced the same way. He had given his first son the name he'd always loved and while he was no longer in contact with that son at all, he felt it would be wrong to also give that name to his second son, so instead opted for Eòghan. The surname is a long standing family name, which has remained in his family for countless generations and the importance of the name passing on is extremely high. Rory has always liked his name, he like Rory because it's simple, though occasionally difficult for some to say since it involves a slight roll in the R. He cares not for his middle name, but his surname is of huge importance to him, it everything his family stand for and he believes wholeheartedly in family.
​
NICKNAMES: ​
Given that Rory's name is pretty short he's never had a nickname, his mother calls him her little Thistle, which relates back to the crest of the family being a small sunflower. Aside from that he doesn't have any other nicknames either given him to by those in his family or by any of the friends he's had over the time. Rory is a short and to the point name, and perhaps other than someone referring to him as Fergus, because of his surname but that would really be about it.
​
AGE: ​
Rory is currently eighteen years old. With a birthday in the summer, prior to hogwarts, Rory used to celebrates by going to the city or going to a quidditch game, given that his uncle helps occasionally to coach the national team, it is usually pretty easy for him and his family to get tickets to go see it. He likes doing those things and spending the day doing something different and outside of his home. He enjoys doing something for his birthday and will always impress upon his mother to let him do something for his birthday. Since coming to Hogwarts, Rory has spent most of his birthdays working, which hasn't been too fun. he misses spending the time with his family and being back home for it, where the weather is always predictably bad. His birthday at Hogwarts have always passed with next to nothing happening, which really now he's older suits him perfectly fine. Since graduating he is likely to spend all of his birthdays drinking but largely alone.
​
D.O.B.: ​
July 23rd 2030, in the late hours of the afternoon at around half four. He was second child to be born of his parents, but the third child for each of them. It was a relatively easy birth, though he arrived a month earlier than he was supposed to, but there were no complications and they were able to leave the magical hospital the same day, just later in the evening. Rory was a very small baby and his parents were concerned about the trouble that apparition would have on him, and so ended up getting a train all the way back up, it was the first time in ages that any of them had interacted with muggles. Rory slept almost the entire time.
​
PROFESSION: ​
Rory is currently a student, but works in Ollivanders during the school breaks. He likely to follow in the family line of work, creating robes for wizards. He has absolutely no desire to do this, he doesn't like interacting with people in that fashion, he doesn't like having to spend time trying to be nice to them, or pretending like they're not dumb for not knowing how any of it works. He knows that it'll be the same if he does have to work for his father which is exactly what why his father got him that job in the first place. he isn't looking forward to taking over the family business, adding even worse things to something already pretty horrible. He didn't like the act of making the clothes or learning how to sew despite being quite good at it, and he never wanted the work that would come with it. He was just meant to do a little work for it and do something like quidditch too. Rory would much rather just play than work for his family, but as the oldest (still alive) born to his parents, both of them, then he would inherit it, no matter how much he doesn't want to.
​
FAMILY:​






Name:

Morag Fergusson


DOB:

April 1999


Relationship:

Mother.


Occupation:

Seamstress/Mother


Blood status:

Pureblood






Name:

Colin Fergusson


DOB:

June 1994


Relationship:

Father


Occupation:

Robes Maker


Blood status:

Pureblood






Name:

Bonnie Fergusson


DOB:

July 2018


Relationship:

Half sister.


Occupation:

Shop Assistant


Blood status:

Mixed blood






Name:

Graeme Fergusson


DOB:

October 2022


Relationship:

Half brother


Occupation:

Quidditch Player


Blood status:

Half blood






Name:

Mary Fergusson


DOB:

March 2025


Relationship:

Sister


Occupation:

Dead


Blood status:

Pureblood






Name:

Aonghas Fergusson


DOB:

September 2036


Relationship:

Brother


Occupation:

Too Young


Blood status:

Pureblood






Name:

Liusaidh Fergusson


DOB:

July 2042


Relationship:

Sister


Occupation:

Too Young


Blood status:

Pureblood
FATHER:​
Colin Fergusson, born in Bridge of Orchy, Scotland in the family home, in June 1994. Now working as a Tailor in the family robes business.
​
He attended Hogwarts Scotland, where he was a Hufflepuff, he had relatively average grades and more of an interest in Quidditch. Following school, he trained hard and became a keeper for the team Pride of Portree in Skye, it was then that he met his first love, Rosemary Macleod, and he knew that his family wouldn't approve of a muggle, they weren't strict as a family, they just didn't want any muggles or muggleborns in the family, so the entire relationship was kept secret. It became increasingly difficult to do so, but they produce a son, Graeme, at which point he told his father about the relationship. He left Rosemary and the son he loved very much when his son turned three, and continued to do so until his father told him to either marry her and forsake the Fergusson family or leave her and her son and become the head of the family business. He chose the latter and left her, keeping in contact until his first son was about 6 or 7. He missed him dearly but never really talked of it in the family. His father to ease up on time arranged a marriage with an old friend, Jim Abernethy who had daughter that needed married, and so in the winter of 2025 after they'd already had one daughter. In the July of 2030, Rory was born. He was very happy to have a second son, and has spent a lot of time raising the boy, showing him the ins and outs of the family, work and quidditch. He always preferred Rory to Rory's older sister Mary who was doted on by her mother. They had a second son almost ten years later, named Sean. His daughter died in the December of 2040 after she fell ill at school and wasn't able to recover, because of this death, he fears losing his other son and has decided to en-roll him in the Hogwarts in New Zealand, since a Hogwarts is better than nothing. He loves all of his children, and feels a deep of sense of loss over no spending more time with his daughter.
​
MOTHER:​
Morag "Abernethy" Fergusson, born in Abernethy, Scotland, in April 1999, she works with her husband but also primarily as her mother, prior to that pursue a career in magical law. Morag is the only child of her parents.
​
Morag attended Hogwarts Scotland, where she was a Hufflepuff. She graduated from Hogwarts with near perfect grades and also immediately began working for the ministry in London, she worked there for two years before she fell pregnant and gave birth to a daughter, Bonnie Abernethy. She continued to work there and raising her daughter alone until early 2024 when her father brought her back up to Scotland so that she could marry him. The two got along very well, and in the very early stages of the relationship, she fell pregnant and the wedding was pushed to the winter of 2025 after the child had been born. Morag brought her first daughter with her to live with the family and changed her name to Fergusson to reflect the family she was now a part of. She had a son five years later after much trying, and very little success, and then a second son almost nine years after that, again after much trying. Morag was always very close to her daughters and her daughters were always very close, losing Mary was the hardest thing to ever happen and it broke her heart, she is desperate to have another daughter.
​
SIBLING(S)​
Half Sister, Bonnie Fergusson, born July 2018, attended Hogwarts Scotland, Hufflepuff.
​
Half Brother, Graeme Fergusson, Born October 2022, attended Hogwarts New Zealand, Hufflepuff, dropped out.
​
Sister, Mary Fergusson, born March 2025, attended Hogwarts Scotland, Hufflepuff, died in December of 2040 after a case of Scrofungulus took a turn for the worse, she was taken to St. Mungoes but they were unable to help her.​
Brother, Aonghas Fergusson, born September 2037.
​
Sister, Liusaidh Fergusson, born July 2042.
​
OTHER:​
Grandfather, Colin Fergusson, born June 1964
​
Grandmother, Caitlin Fergusson, born July 1964
​
Grandfather, Jim Abernethy, born November 1973
​
Grandmother, Melissa Abernethy, born March 1970
​
Uncle, Stewart Fergusson, born December 1998
​
Married in Aunt, Fauna Fergusson, born December 1998​
Cousin, Fauna Fergusson, born April 2020, attended Hogwarts Scotland, Hufflepuff
​
Father's youngest Brother;
​
Uncle, Angus Fergusson, born August 2000
​
Married in Aunt, Sian Fergusson, born October 2000
​
Cousin, Caitlin Fergusson, born May 2022, attended Hogwarts Scotland, Slytherin, has a son, Angus Fergusson Jnr, born December 2040
​
Cousin, Kilda Fergusson, born September 2026, attends Hogwarts Scotland; Gryffindor.
​
Cousin, Caladh Fergusson, born April 2033, attends Hogwarts Scotland; Hufflepuff.
​
RELATIONSHIP WITH FAMILY:​
Rory has always close with his family, he was raised in an environment where he was constantly doted upon by his parents, specifically his mother and where he was not often without a sibling or cousin to play with. he has always been very close with all of his siblings, and was very close to his elder sister before her death. He was close with his father and very much looked up to the man. It was easy to, the man was everything that Rory had hoped he'd one day. He was close to everyone in his family really, he was protective of the family members younger than him, and enjoyed the company of his older cousins, of his uncles and aunts. He liked working with them and formed a close bond with them and where they spent all of their time at the family home. Since his sister's death, his relationship with his parents has changed, with his father it is far more strained. He resents his sister for dying and leaving him to be the one the family looks to. His father has been harsher with him, and he resents him for sending him to Hogwarts in New Zealand. He feels that the distance caused a huge rift between him and all of his family who had lived on without him, especially his two younger siblings who he hasn't had as much time to get to know. He doesn't want any of the responsibility that he knows he will inherit which has put him at odds to the tradition of the family which he had once firmly believe in. He misses them dearly however, and is eager to get back to them and for things to return to normal with them.
​
PET(S)​
The family has three cats, one dog and two owls. Rory has one of the cats as his own, and he named it Ferb, it's a tabby cat which he got when he was 9 years old as just a kitten, he loves his pet and cares deeply for it. He doesn't spend much time with the rest of the pets in the family, but will if he attends Hogwarts New Zealand take one of the two family owls, a black owl named Nessie. he doesn't care much for owls, but does prefer Nessie.
​
BLOOD STATUS:​
THOUGHTS ON BLOOD STATUS:​
Rory is a very proud person, which is only added by the fact he is pureblood, he has not often until school been outside of that comfort zone, and so therefore has a very heightened sense of his own importance which relates back to him being pureblood. He doesn't like muggles or muggleborns, but this really has little to do with his blood, and just in the way he was raised, were he a mixed blood he would think the same. Rory loves being a pureblood and thinks of it as his ticket to do whatever he wants, the purity of wizarding blood has always been pressed upon him, how important it is and how crucial it is to have a pureblood line, continue the pureblood line. Both his parents have other children who are not purebloods but both stress now more than ever after loosing one child to preserve and protect the pure blood.
​
Rory's old opinions on purebloods do linger around, but it isn't particularly what he currently thinks, he's been following that line of thought because it's what he was raised on, it what he's always known, but he can realise that his family's views are old and wrong. His parents in his mind are both hypocrites of what they've been telling them with both having non-pureblood children. He doesn't think it's necessary to preserve lines or to be so exclusionary to other people. he won't do anything about his own opinions currently, once he leave New Zealand, he'll just go home and be able to pick up where he left, so it's pointless to change his mind that much, he just figures when he has his own children he'll teach them to be a little more open minded.
​
HOMETOWN:​
Bridge of Orchy, Scotland
​
CURRENT RESIDENCE:​
Bridge of Orchy, Scotland, this is a very small town, though more accurately a hamlet in the Argyll and Bute region of scotland. It is located in Glen Orchy and they have an entire complex of houses which is hidden from the muggle world, but easily located by wizards, the Fergusson family have remained in these houses since the early 1700s and have rarely moved since, it was in the 1700s where they set up the family business of robe making and have become very wealthy from it. Supplying largely to rich wizards and witches, looking to avoid the hustle and bustle of diagon alley or Hogsmede. Rory feels like most of his family a deep connection to the land they live on. Both sides of his family are deeply scottish and he feels the connection to the country as they do. The love for it, the knowledge that it's a great place. He definitely misses his home a lot since being in New Zealand in school, missing it as deeply as he misses his family. There's just so much about his home out-with just the piece of land he misses while in New Zealand.
​
THE PLACE TO LIVE:​
Since Rory has always lived in the same house, he would always say that he wouldn't want to live anywhere else in the world. He knows it is likely where he will remain for all of his life, and reasons that for that reason alone it wouldn't be a terrible idea to come to associate the place with love. It is a good thing there for that the area itself is to him visually amazing. He has had a difficult time adjusting to New Zealand and would certainly want to move back home. Despite not really wanting to follow the family path, he misses his home.
​
PREVIOUS HOMES:​
FIRST HOME:
His first and likely only home for his entire life, is the complex of houses that he and the rest of the Fergusson clan live in. He loves his family and is very close with them all. It is quiet and secluded and they make enough money to live very well, he is never really without people to play with, and does occasionally play with other magical children who come to the shop his family own. It is his first home, and it's where he knows he'll spend all of his life. It's in the country he loves filled with all his family. They would all surround him, and there was always someone to spend time with. It holds all his childhood memories and he can't wait to be able to live there again permanently again.
​
SECOND HOME:

Rory has been living in a two bedroom apartment in New Zealand since he moved to the country for school with his sister. His mother often taking care of all the needs of the apartment, stocking it up, and cleaning up whenever Rory isn't at it, and whenever he's at work. It's a relatively well sized apartment that's close to everything he would need. It's close to his work, which is good. It is the apartment that his sister now lives in as she moved to New Zealand permanently and will be the apartment Rory's young brother will use when he goes to New Zealand. It is paid for by his father and is in the Fergusson name.
​
SEXUAL ORIENTATION: ​
Rory really likes girls, he thinks they're pretty and he's attracted to them, but he's also not bothered by boys, he's not attracted to them, but he likes them and is comfortable enough in himself to know that he's attractive to boys. He likes flirting with people, he likes the reaction he get from it, even if it's not overly great and that he's always flirted with people he has no chance with.
​
CURRENT RELATIONSHIP STATUS:​
Rory is currently single, having broken up with his girlfriend recently.
​
CRUSHES PAST AND PRESENT:​
Rory had a small crush on Estelle Styx at the beginning of his second year of school. He then started dating Anabelle, and towards the end of them dating developed a crush on Therese Rosenberg. He is flirting with a number of girls at the same time, but he only really crushes on Therese. He finds it fun to mess about with Evelyn and joke about them dating but he doesn't particularly have any crush like feelings towards her. Since breaking up with Therese, he has developed a crush on Andi Forstrom. A girl he who absolutely hates him, but someone who he likes. He knows that crushes are pretty pointless for someone in his situation.
​
FIRST KISS:​
FIRST FRENCH KISS:​
PAST RELATIONSHIPS:​
His first real relationship was with Anabelle Williams, they dated for about a year beginning on the valentines of his third year to that of his fourth. he likes her, just not enough and does wish they remain friends. He can recognise now that he's older that he didn't perhaps treat her with the respect she deserved but to him what happened to them didn't matter, she was just someone who liked him and was there to keep him company at events. He hadn't liked her much more than a friend.
​
His second real relationship was with Therese Rosenberg. he started dating her a few months after he and Anabelle split up. This was a much better relationship than his first. He still kept a bit of distance between them, knowing that no matter how much he liked her he wouldn't be able to stay with her after hogwarts so he didn't try too hard to keep the relationship strong or going. He flirted with others girls during their relationship and often at events where she was likely to see. He was stopped short of kissing and flirting with Evelyn manning when she turned up and interrupted their conversation. Rory liked Therese a lot, a lot more than he would ever admit that he did, but he knew that he had to break up with her, mostly because their relationship wouldn't last out of school and he'd held her at such a distance that he no longer liked her in that way.
​
FLINGS:​
THE FIRST TIME:​
------------------------------------------------------------
Too sad we parted ,
in yon shady glen
------------------------------------------------------------
​
HAIR COLOUR: ​
Rory has soft brown hair, taking much after his father in colour but mother in style, it remains very straight and doesn't often get too frizzy because of this. He likes his fair, although he doesn't spend much time with it, he alternates from having a full head of hair to having shaved sides and hair on top. He feels like there is so much he could do with his hair but that is all he can currently do with it. Rory tries to keep his hair as different from those in his family as possible with all the other people he shares with it is difficult to compete and stand out, so he usually alternates his hairstyle to accommodate this.
​
HAIR HAS BEEN DYED​
Never, he has never wanted to. Far too scared of what it might do to his hair should he get it dyed, he knows for one thing that other than magically he can't but would also never want to, if the spell went wrong and he was unable to change it back, he would at a complete loss over what to do about it. For that reason, Rory would not get his hair dyed for a long time, if ever, even in adulthood.
​
EYE COLOUR: ​
Rory has eyes much like his father's a strange combination of brown and green, which seems to be more brown than green on most days but can appear to change between the two. Rory has always liked his eyes, and he's always been glad for the perfect vision which he's always had, his older sister had required glasses from the moment she'd gone to school. Rory very much hopes this won't happen to him, he likes being able to see without and know that they would be a huge issue if he wanted to continue to play sports. Rory thinks that eyesight is more important than eye colour and though he very much likes his own he prefers that he can see almost perfectly.
​
BIRTHMARKS:​
Rory has no visible birthmarks on any part on his face, he has many freckles dotted all over his body and he loves the freckles that he has, though they aren't as obvious as his sister and brother's. He likes having the freckles but is also happy to have no other birthmarks and have essentially unblemished skin. Rory has no scars, he doesn't do much that it adventurous and therefore he isn't the type to end up getting hurt or ending up with scars.
​
BODY TYPE: ​
Rory has always been quite a small person, he has a small thin frame, he wears large layers but he's got a thin body with next to no build. He stands at perhaps a little smaller than the average height for his age group and definitely under the average weight of his age group. He's not that great of an eater, just quite picky when it comes to food and fairly non-adventurous, so he doesn't eat too much. Though he's always been small, in his early life too. He's got very pale skin, which burns exceedingly easily much like his rest of his family.
​
BLOOD TYPE:​
Rory has a very common blood type which he knows next to nothing about, because it has never really interested him to learn it. He doesn't care about it, because he never really assumes he'll ever need to know it. Rory rarely if ever ventures out of the magical world.
​
WHICH HAND?:​
Right handed, Rory was taught to read and write by a tutor who came to the family every day and helped them read and write, teaching basic maths and other such things which would be useful to him, and though Rory took some time to actually get writing unlike his sister, he was naturally right handed and it wasn't long till he was just using his right hand for everything, and found he really liked writing.
​
VOICE: ​
Rory has a very thick Scottish accent which he has picked up from his father, he can be struggle to be understood in most places and he's never once had to alter his accent, because his parents would've always dealt with them. Rory thinks he speaks a very clear kind of english and because his family all sound like him, and though most of his family lose parts of their accent as they grow older, Rory has one of the thicker accents in the family after all the time he spent directly with his father who after Rory has the thickest accent. He has grown to dislike his accents in many cases and annoyed with the amount of people who struggle to understand him. he has tried to tone down his accent but can't really do it, having spent the first significant part of his life around people who sounded like him. It is un-helped by his anger bringing it out stronger, his use of certain words and phrases uncommon to new Zealand and the fact he digs his heels in about the accent as others comment upon it or laugh at it.
​
I CAN SPEAK:​
Rory speaks both English and scottish Gaelic, his father got a tutor in so they would all know both of them, and Rory doesn't speak a lot of scottish gaelic given it's a very uncommon language but he definitely likes the fact that he actually can speak it, he thinks it gives him an advantage over others, and he thinks it'll always be an interesting fact about him. His english has always been very good, given that he is in an english speaking country. He also by proxy of his accent can speak bits, read bits and understand bits of scots. It's more of dialect now, some view it even as an accent more than anything, but he can speak it and uses the odd word from it. His use of gaelic is quite low, he keeps it up because he likes the connection it gives him to his ancestors who spoke it and how common it was for him as a child especially in the songs his mother sang.
​
I AM ALLERGIC TO:​
Rory is not an adventurous eater and therefore he wouldn't know if he's allergic to anything, and Rory is happier not knowing what he might be allergic to and not being adventurous will ensure that this will continue. He has no current allergies but it remains to be seen if he's allergic to anything.
​
PERSONAL STYLE: ​
Rory's style is fairly simple, he'll wear thick and heavy jumpers with simple t-shirts and skinny jeans. He'll usually match that with trainers of some muggle brand that his mother buys him. He doesn't have much style beyond that, he usually wears t-shirts and jumpers which are much too big for him, and isn't often caught without one. He does however wearing a varying amount of colours, from pinks to greens in his jumpers and with his trousers he has grey, black and blue. He'll always vary the colours, and is quite often spotted wearing his Scotland Quidditch team jersey. One of his staples is a thick grey jumper which he wears with pretty much everything.
​
CURRENT PLAYBY: ​
------------------------------------------------------------
Where the broken heart ,
knows no second spring ,
------------------------------------------------------------
​
CHARACTER LIKES: ​
Rory likes flying and quidditch, he likes being with his parents and enjoys the attention he gets from both, he likes his family and would always remain loyal to them even if he doesn't really want to follow the family like. He likes watching birds, and finds sewing despite not being very good at it very soothing. He likes going for walks and spending time with his cats, he likes playing, he likes going to see quidditch games, he likes going to see muggle football games and he likes helping out around the house. Rory loves the night sky.
​
CHARACTER DISLIKES: ​
Rory is not particularly academic, if he doesn't need to know something he won't learn it. He doesn't like having to sit down for long periods of time and just reading or learning, he always needs to be doing things with his hands. He doesn't like when the weather is too hot, or when the winds are too strong, he doesn't like the winters much because of how dark they can be. He dislikes roughhousing and dislikes muggles. He doesn't like bugs or going on adventures (although secretly he'd like to be change this) he doesn't like travelling by apparition and he really hates being lied to.
​
GOALS: ​
Rory has no idea what his goals are, he's always been given everything, so he's just expecting to be given everything as he moves on through life and therefore assumes he won't need any goals. He isn't even sure what he wants when he leaves school, or what he wants to be. If he even wants a family, or good grades, Rory just doesn't know. As he has grown older his goals have become more pronounced and he's been more aware of them, but since a lot of them aren't things he'll ever be able to do, he pushes them all down pretty deep. He rather pretend to people to be goal-less than admit the goals aren't ever going to happen because his future's already set.
​
BOGGART: ​
Losing another one of his siblings, after already losing one, Rory isn't sure he'd like to lose another, he has grown up being very close to all his siblings and wants them to live forever with them, and most of all he doesn't want to be the next sibling to die, so really losing any of those people would be what he would see. Though he does resent his sister for dying he doesn't want to lose another.
​
PATRONUS: ​
PATRONUS MEMORY:​
There are no stand out memories where he would say that it was the happiest he'd ever felt to be able to create a strong patronus but certainly when he got to fly a broom for the first time. Despite being a little afraid of it, he very easily got over this fear and was able to glide through the air in no time at all, he knows that quidditch runs in the family but he'd also say that flying was one of the greatest experiences he has so far done.
​
DEMENTOR: ​
Being awoken at five in the morning to go to London because his sister had died in the early hours of the morning. Prior to that, Rory had encountered very little loss and had suffered very little and this just awoke him slighter he just doesn't understand how anyone could think that losing someone was simple or that it could get better, because he can see it in his parents that it won't. He spent a lot of his time with his remaining siblings and spending time with his very young brother who doesn't in the slightest understand what was happening. It was just a very difficult time for him and his family.
​
VERITISERUM: ​
Rory had always thought his sister would eventually take over his position and become the head of the company and the family, since she actually was looking forward to it and had the skill needed to do it, but if he had to admit something it would be that he's annoyed with his sister because it means he's in pole position now to take it over, and that really wasn't what he wanted. Rory would've been happy to just do something else, anything else.
​
MIRROR OF ERISED​
He'd be going to Hogwarts Scotland, the thought of having to go to Hogwarts New Zealand, isn't great, even if the two schools are incredibly similar to the one he was supposed to go to it would still be a huge loss to him that he has to attend the sister school. So, in the mirror he'd see himself in those halls with that uniform on, with those professors, who the family he has at that school, and continuing on the name of Fergusson in it's halls. Rory knows he'll be happy at the other school, but he'll always desire to have gone to the other one.
​
AMORENTIA: ​
Likely one of the smells he would smell would be heather, and thistle, freshly cleaned clothes, or the smell of a room of thread, things he associates with his childhood and growing up. He doesn't have many smell preferences but these would be some.
​
I LOOK UP TO:​
Easily his mother, Rory has spent the most amount of time with his father and while he's very close to both of his parents, he is most close to his mother, and he looks up to her a lot, and thinks the world of her. He doesn't want to follow in her footsteps. He used to look up to his father, up until he was sent to Hogwarts New Zealand and the fall out that surrounded that. He doesn't believe his father did the right thing, and he doesn't agree with him being pushed down a path he does want. His mother does a lot of the same, but he's a mother's boy.
​
ZODIAC SIGN:​
ZODIAC DESCRIPTION:​
Love triumphs over all for this sign, which is ruled by the heart and operates from this dimension too. Leo's are born fortunate. Charismatic and positive-thinking they attract not only an abundance of friends and opportunities, but manage to survive life's stormy times with style and good humour. Once a Lion is committed to a relationship, they are totally devoted and faithful. Should their heart or trust be broken they never forgive or forget. When a relationship breaks down (even a long standing one) they can disappear into the sunset without a backward look. Leos can cut ties, and leave others heartbroken, but usually there is a good reason why they have broken a tryst. For a Leo, when a relationship is over, really over, it is over for good. There are three levels of soul-evolution of the Leos. The highest is represented by the Sphinx; wise beyond their years and great teachers to others. The second is the Lion, King of the Jungle, ruled by ego but always protective and sustaining of those they love. The last is the Lion Cub, immature and undeveloped, frightened by anything new. These Leos cling to others (in the mode of the child not wanting to leave its mother's side).) They can't bear to be alone.
​
BASIC PERSONALITY: ​
Rory has been given everything he could possibly want in his life, his parents are extremely over protective of him, and give him everything he could want, and help him through everything. He has had everything handed to him and therefore knows little about the world or how it acts. He expects things to be done for him, and he so far not had the best track record for friends. He's more than a little gullible and not that inquisitive, he doesn't like adventures or doing dangerous things because he finds them pretty scary. He can easily be persuaded into doing things unless it's something he really disagrees with where he might put his foot down. He doesn't really like muggles and can be fairly elitist in his thinking about them. He's not very studious, and never really actively seeks knowledge he's far more likely to wait for it to fall on his lap than anything else. As he's grown up he's become more outwardly angry, and prone to violence, he tries his best to not be, but he can't help it. He's more flirteaous than ever before and finds that an easy way to get along with people. He's trying to be a better person, and less purest but he struggles a lot.
​
FAUX INSTAGRAM: ​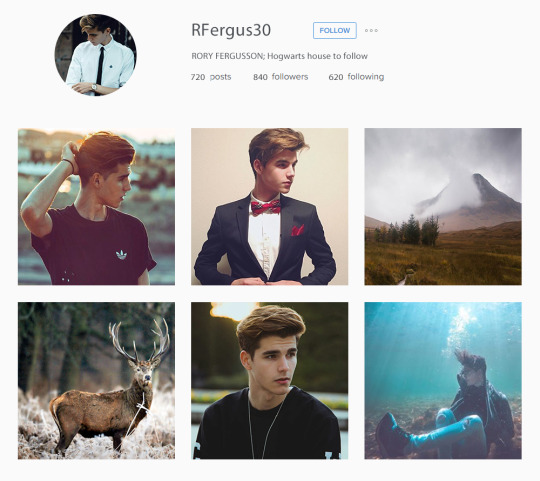 ​
Last edited by a moderator: