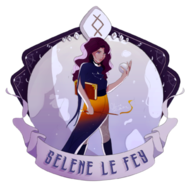 Twin, Lost, Seer in training.
Selene was relieved. they had made it. she had completed her last OWL exam and now she had a few days left at school before going home for the break. after everything that had happened with her and nell she had returned to the old search she and hellia had been on for years. she had come to a conclusion but had kept putting asking the transfiguration professor if she was right off. while part of her wanted to know who her dad was part of her didn't want to. in the end she and hello had decided that they should at least ask. even if professor summers wasn't then he may know who was. or give them some hunch that their mum refused to tell them. she met her twin on the fifth floor corridor an old 2028 edition of the school year book in hand. if she needed proof it at least was something. she turned to her sister and grabbed her hand. something she used to do when she was nervous bu hadn't done for years. there was something about this conversation that had the potential to turn her life upside down and she had already. "are you ready" she whispered to her twin as they made their way towards the transfiguration professors offices.
she took a deep breath as she reached the door with a sign that read Professor A. Summers and knocked on the door. "Professor summers, would it be possible to ask you a couple of questions if you have a few minutes" she said. "we can come back later if you are busy" she added hastily. part of her wanting this excuse for an out.